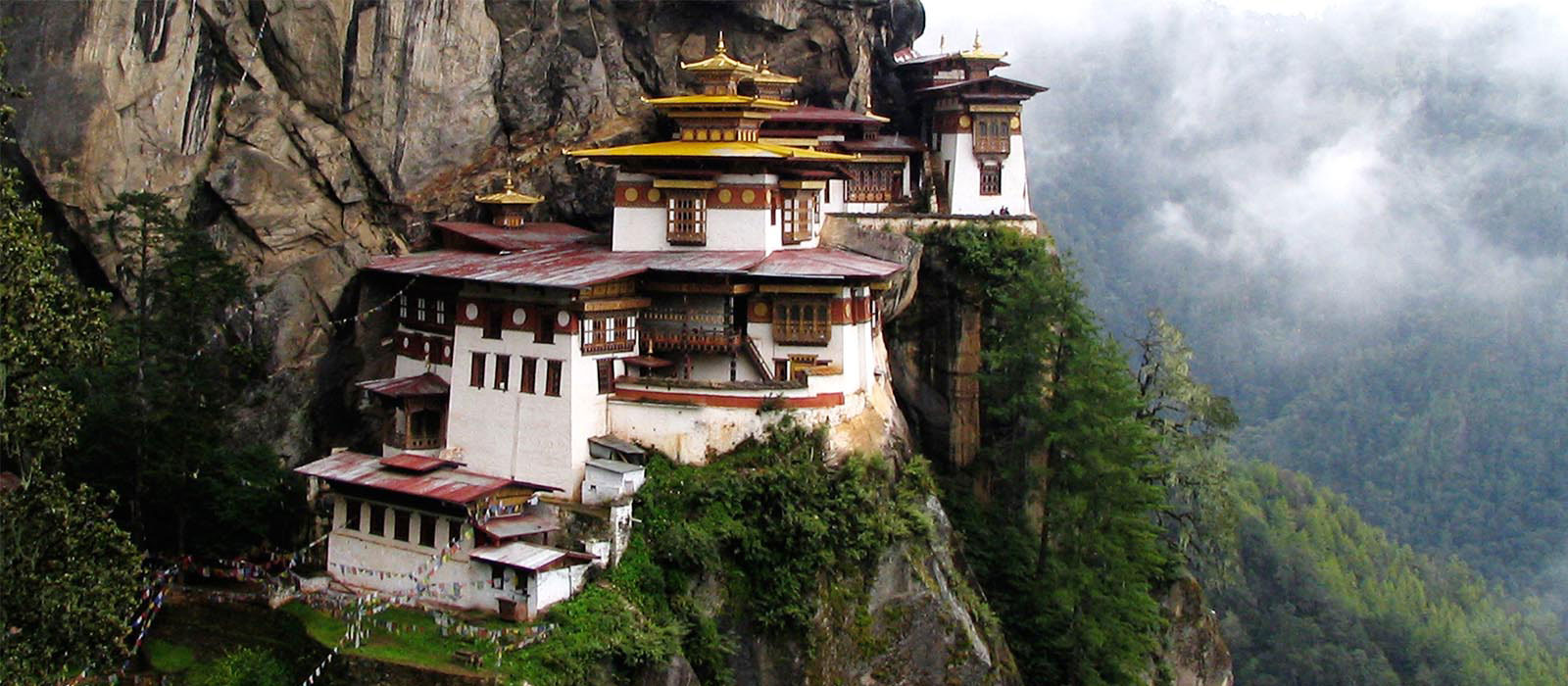 Bhutan
Bhutan is a small landlocked country bordered to the north by China and to the south by India in the continent of Asia which lies along the lofty ridges of the eastern Himalayas with some fertile valleys and savanna.
Reckoned as one of the happiest countries in the world, Bhutan is also known as "The Land of Thunder Dragon". Bhutan can be considered as one of the most exclusive tourist destinations in the world as a sanctuary for wildlife which has successfully remained sequester from the rest of the world in its pristine state, unspoiled by outside influences. Visitors shall also experience four distinct climatic conditions in this exotic land, among them spring and autumn seasons are usually the most popular times to visit Bhutan. Travelers can tour around the ancient fortresses, monasteries, and temples having top architecture and art, meet the delightful local people in their traditional dress and learn in-depth about their unique customs, beliefs and lifestyle. Regardless of the season, you can easily experience the magical and breathtaking natural scenery surrounded by consecrated mountains, sanctified peaks and holy lakes. Trek to holy passes, travel around the quirkiest towns in the planet and get mesmerized by Bhutan's epic cultural and ancient traditions with its well-preserved ecosystem in our Bhutan trip.
To apply for Bhutan visa we need to have clear passport photocopy (photo should be very clear) of the clients 15-20 days prior to the travel date.
All tourists (excluding Indian, Bangladeshi and Maldivian passport holders) who wish to travel to Bhutan require a visa and must book their holiday through a Bhutan tour Operator Company or one of their international partners. The tour operator will take care of Visa arrangements for visitors.
Indian, Bangladeshis and Maldivian nationals can obtain a visa at the port of entry on producing a valid passport with a minimum of 6-month validity (Indian nationals may also use their Voters Identity Card (VIC)).
All other tourists must obtain a visa clearance prior to travel to Bhutan.  Visas are processed through an online system by your Bhutanese tour operator, directly or through a foreign travel agent.
You are required to send the photo-page of your passport to your tour operator who will then apply for your visa.  The visa will be processed by the Tourism Council of Bhutan (TCB) once the full payment of your holiday (including a USD $40 visa fee) has been wire transferred and received in the TCB bank account.  Once received the visa clearance will be processed within 72 working hours.
At your point of entry, you will be required to show your visa clearance letter, the visa will then be stamped into your passport.
Payment:
Since the Department of Tourism issues visa only upon receipt of full payment in advance, tour payment has to be transferred to our account at least 3 weeks before the travel date.  Airfare needs to be sent at the time of issuing tickets.
Flight booking:
We need complete names (as in the Passport) of the clients to book seats.  Without names, it is not possible to book seats. Ticketing Time Limit (TTL) is given & we need to issue the ticket within TTL expires.
Cancellation policy on Tour:
Once the visa is processed & tour program booked and subsequently cancelled shall be subject to the following charges:
| | |
| --- | --- |
| a) Within 30 days of the start of the program | – No charge ( Except flight ticket Cancellation) |
| b) Within 25 days | – 10% of the rate |
| c) Within 20 days | – 15% of the rate |
| d) Within 15 days | – 30% of the rate |
| e) Less than 10 days or cancellation | – 50% of the rate |
| f) Less than 5 days or Cancellation without Notice | – 100% of the rate |
Cancellation policy on Airfare:
a) Before 30 days: no cancellation charge but have to pay US$ 45 per person as documentation charge.
b) 15-30 days: 50% cancellation on airfare + US$ 45 per person as documentation charge.
c) 15-10 days: 75% cancellation + US$ 45 per person as documentation charge.
d) Below 05 days: 100% cancellation
Note: The above-given rates are based on the present Govt. rates.  If there is any change in the Govt. rates, we have to revise our costs accordingly.
Cost Info:

Cost includes:-
Private transportation By Tucson / Innova or land cruiser / Hiace/Coaster.
All necessary travel and Trekking permits.
English speaking Bhutanese guide.
Accommodation on a single/twin room basis.
Sightseeing and monastery entrance fees as per the itinerary.
Meal plan: Full Board Basis.
Bhutanese Visa fees.
Flight Fare: Kathmandu- Paro- Kathmandu or other destination.
Cost excludes:-
Insurance of any kind.
Additional cost due to natural calamity and unforeseen circumstance.
Personal expenses such as drinks, guide tips.
Contact, Himalayan Holyland Treks & Expedition right now and join us for an incredible trip in Bhutan.