10 Days Upper Mustang Trek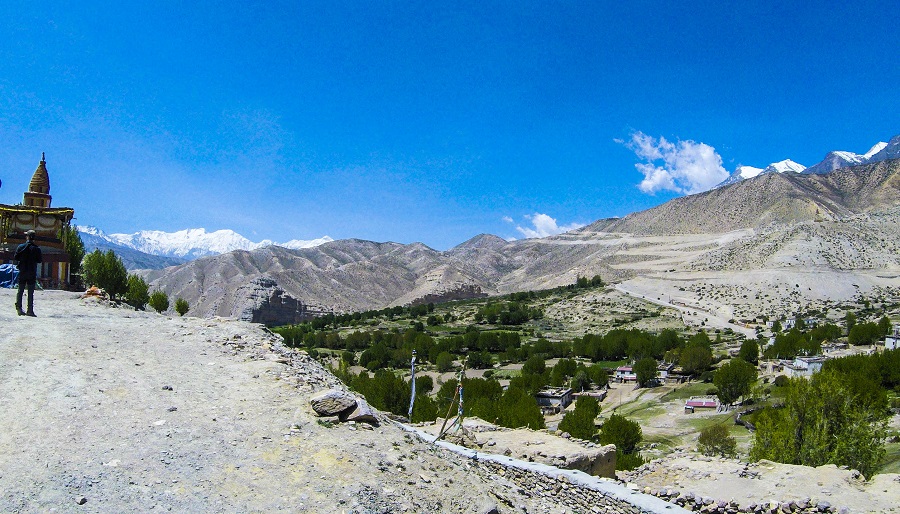 September 27, 2019
Introduction
The Upper Mustang trek is fused with the mysterious and enchanting landscapes in Nepal. It is also known as the last forbidden kingdom. Situated in the isolated Himalayan desert behind the stunning mountain Annapurna and Dhaulagiri, Upper Mustang offers you an opportunity to explore an old traditional Tibetan settlement with rare medieval Buddhist arts and exotic culture of the people. Enthusiastic outdoor lover made the Upper Mustang trek is one of the most famous trekking destinations and known for its red and yellow barren landscapes. Upper Mustang, a hidden paradise is blended with beautiful trans-Himalaya landscapes, mystique valley, century-old monasteries, ancients Tibetan Buddhist shrines; Kanis, prayers walls, Chhortens, the stupa, and many more. During trekking trail of Upper Mustang, trekkers will find a splendid view of windswept Kali-Gandaki Valley, vast ridgelines that sprawl high mountains and vast space around Kagbeni are really awe-inspiring.
Upper Mustang is a home place for Tibetan like Nepali people. As you reached over there, you can get involved with the same people and experiences the hospitality and warmness of the natives. Encountering with their interesting culture and traditions are really incredible. Most of the trekkers regarded Upper Mustang as a Mini Tibet of Nepal, where you will get to discover some of the very famous and large Tibetan Buddhist gompas, a captivating major ancient monastery, soaring red cliff, Chortens and Mani Walls with prayer flags along with spectacular Himalayas views on the background.
10 days Upper Mustang Trek Itinerary
Day 01: Drive (5-6) fly (30min) to Pokhara
Day 02: Fly Jomsom from Pokhara and Trek to Kagbeni (2,800m)
Day 03: Trek to Geling (3,570m)
Day 04: Trek to Tsarang (3,560m)
Day 05: Trek to Lo-Manthang (3,840m)
Day 06: Explore around Lo-Manthang (3,840m)
Day 07: Trek to Ghami (3,520m)
Day 08: Trek to Samar (3,540m)
Day 09: Trek to Muktinath (3,600m) and about a one-hour drive to Jomsom
Day 10: Drive back from Jomsom – Pokhara
The trekking highlights of Upper Mustang
Witness the ancient Tibetan culture and lifestyle
Explore the kingdom and palace of King Lo or King of Mustang
Catch a spectacular view of Mt.Annapurna, Mt.Dhaulagiri, and Mt.Nilgiri, etc
Visit the Kali Gandaki Gorge: the deepest gorge/canyon of the world
Explore the oldest monastery in the world, Lo Gekar Monastery.
Visit the beautiful villages of Mustang such as Jomsom, Kagbeni, Tamara on, Gelling, Ghemi, and Tsarang.
Best Time for 10 days Upper Mustang Trek
Before starting Upper Mustang trek in Nepal, trekker should know about the best time to trek Upper Mustang. Different seasons in Nepal has a different climatic condition, where each of the seasons brings its own delights and shortcomings.
Autumn Season (September, October, and November):
Most of the trekkers consider autumn seasons as one of the best seasons to trek and explore Upper Mustang in Nepal. Autumn seasons consist of September, October and November months. In this season the weather and temperature are good and fine in the region where trekkers can witness clear visibility of the scenic beauty of the Mustang region. In this season the temperature of Mustang region is stable, where it ranges from 12-20 degrees Celsius. So, trekkers will feel neither too cold nor too hot during their trekking.
Spring Season (March, April, and May):
The Spring season is also regarded as one of the best seasons for the 10 days Upper Mustang Trek. In this season, trekkers can witness green surrounding everywhere. The weather is also clear which allow you to view clear Himalayan views along with the rhododendrons blooming. The temperature is also the same as the Autumn season, it is stable, which range from 16-22 degrees Celsius. In this season trekker will get golden opportunity to celebrate one of the biggest festivals of Upper Mustang called Tiji festival.
Summer Season (June, July, and August):
Summer season consists of June, July, and August months in Nepal. It is also called monsoon season in Nepal, where the weather is unpredictable. Heavy rain will cause difficulties in the trekking trail. It is also said that in the Upper Mustang region there will be occasional rainfall so it will not harm for trekker so far.  The temperature of the Upper Mustang may vary between 16 – 20 degrees during this season.
Winter Season (December, January, and February):
The Winter season is one of the coldest seasons in the Mustang region of Nepal. In this season, the temperature falls down from 0-5 degree Celsius during the day time and -25 to -20 degree Celsius during the night. Due to heavy coldness, most of the hotels and lodges are off, which makes treks difficult.
Frequently Asked Questions:
The Difficulty of 10 days Upper Mustang Trek
Upper Mustang a moderate trek in Nepal is suitable for everyone but need to be physically fit. Trekker can visit Upper Mustang and explore with their friends, relatives, and family. The difficulties of Upper Mustang trek depend on the various factors that include trekking duration, altitude, and the seasons. Trekkers need to trek around 6 to 7 hours a day. The highest altitude of Lo Manthang is 3700meters.August and spring seasons are the ideal seasons to trek Upper mustang. Except for this season, trekking in the Upper Mustang may cause difficulties.
Altitude Sickness and Health:
The highest point of the Upper Mustang is 4000 meters from the sea levels, so trekkers will not face any kind of altitude sickness. Even though, it will be better to be careful about sudden accidents. We recommend you to carry altitude sickness medicine along with drinking water. Before heading it will be better to consult with the doctor.
Cost of the Upper Mustang Trek 10 Days
The cost of Upper Mustang trek depends on various factors that include trekking packages, group size, itinerary, accommodation, food, Guide or porter, and many more.
Porter and Guides for Upper Mustang Trek
Nepal government policy requires that trekkers should have special trekking permits with licensed trekking guide.  If trekkers are trekking in the open border such as Tibet and India, it is mandatory to hire a trekking guide or Porter. To visit and explore restricted areas of Nepal, trekking guide is compulsory. Trekking guide or porter also helps them to explore the place and native people along with their unique cultures and traditions.
Food and Accommodation during Upper Mustang trek
Before heading to Upper Mustang, an isolated and partly restricted region of Nepal, trekkers should know about the food and accommodation available in the Upper Mustang trek. Tea Houses and Lodges situated in the mustang region will surely provide lodging facilities, their trekkers will find accommodation with the western toilet and other basic facilities. As compared to other trekking packages in Nepal, accommodation in Upper Mustang is quite expensive.  As Upper Mustang is regarded as an isolated area, where very few people are living over there. The cost of transportation is also very expensive and rarely available. Trekkers will get three-time a meal per day that includes breakfast, lunch, and dinner. Basically, the meal includes Dal, Bhat (rice), Tarkari (vegetable), aachar, and meat (optional). You will also find plenty of drinking options to choose from. You will find tea and coffee everywhere during your trek.
Entry and Restricted Area Permit and its cost for Upper Mustang
Everyone who wants to trek into the Upper Mustang areas, they required trekking permits. Upper Mustang is a restricted area so trekker should take ACAP, TIMS, and RAP (Restricted Area Permit). For 10 days Upper Mustang trek trekkers need Restricted Permit, which cost $ 500 per person and ACAP cost $20 per person.
We also mention necessary documents for Upper Mustang Trek in Nepal.
Passport (At least six months valid)
Original passport and current visa
Cost is $500 per person, for 10 days, with an additional $50 per person, per day after that.
Scanned copy of the passport-sized photograph
One printed passport-sized photograph is required for ACAP permit.
ACAP permit is also required ($20 per person).
Minimum of two trekkers in the group.
Gears for 10 Days Upper Mustang Trek
During trekking to Upper Mustang, trekkers should take essential gears to make a secure and successful trek in Nepal. We will recommend some essential gears are as below:
Clothing includes Hiking boots, Sweaters, Trekking socks, Trekking trousers, Fleece jackets, Down jackets, Cotton T-shirts, Lightweight gloves, and many more.
Headgear includes Neckwear, Woolen caps/ hats, Sunglasses, and many more
Accessories include Batteries, Sleeping bag, First-aid kit, Chargers, water purification liquid or tablet, Proper Documents, and many more.
Toiletries include Toilet papers, Toothbrush, Toothpaste, Shampoo, Body lotions, Hand sanitizers, Soap, Sanitary napkins/ tampons, Cotton towel, Sunscreen, and many more.
Luxury/Entertainment includes Binoculars, Novels, Journal & Pen, Trail Map/Guide book, Pencils, and small notebooks, and many more.
Conclusion
Upper Mustang, lies in the northside of the Annapurna in Dhaulagiri zone which is fused with the beautiful barren ridges, eroded cliffs, deep canyons, and Moraine Valleys. Upper Mustang is a restricted and untouched area which has beautiful wilderness, untouched scenery, snowcapped peaks, century-old monasteries, and other so many exclusive attractions. If you are interested to explore such a Himalayan wonder of Upper Mustang, do please inform us. Himalayan Holy Land will offer you perfectly managed Itinerary packages for Upper Mustang Trek.