Jungle Safari Tour in Nepal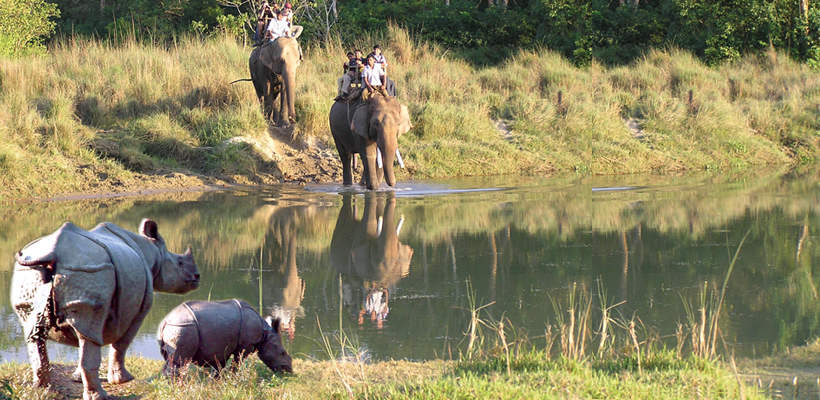 August 6, 2019
Jungle Safari Tour in Nepal is one of the most famous and unique wilderness adventure trips. This tour will provide full satisfaction to those who are nature lovers, wild animals spectators, and bird watchers. As compared to other packages, Jungle Safari Tour in Nepal is easy and pleasing tour package. In Nepal, there are nine famous National Parks namely Bardiya and Chitwan National Park are the well-known and largest National park in Nepal. Most of the traveler around the globe prefer to choose a vacation trip as a jungle safari. As for their tour, they will get a golden opportunity for jeep or elephant riding safari. Alongside exploring endangered wildlife and amazing themselves with the flora and fauna. Most of the tropical area of Terai region in Nepal is covered by jungle, 16% of the geographical area of Nepal is covered by the National park, wildlife reservation, and conservation area.
Nepal is rich in wildlife and vegetation.  Jungle Safari is one of the most famous and thrilling experience that travelers can experience in Nepal. Most of the National Park in Nepal, Jungle Safari is available. And here are some famous National Park, which offers jungle safari such as; Chitwan National Park, Bardiya National Park, Parsa National Park, and Sukla Phanta National Park. Chitwan National Park is one of the most well-visited parks which offers excellent opportunity to view one-horned Rhinos, Royal Bengal Tigers, Crocodiles, and adventurous wilderness experience into its deep and thick jungle.
How much does it cost for Jungle Safari Tour Package in Nepal?
The cost of the Jungle Safari Tour in Nepal is depending on the package of tour and nationality. If the travelers are from Nepal, as a entry fees they may charge Nepali rupees 150 per day per person, SAARC National travelers may cost NRS. 1000 per person per day, and for foreigners Nrs. 2000 per person per day in Nepal. So, all the activities you try or enjoy, have their own individual price. Such as Chitwan Elephant Safari will cost the US $ 35 per person, National Park Permit of Us $ 20, and the cost of inside jungle night stay in the US $ 50-$ 70 per person.
Best time for Jungle Safari Tour in Nepal?
Nevertheless, the whole year is the best time for Jungle Safari. But most of the travelers prefer to go in the particular season for the wildlife watching potential and a good time to walk. The tropical Terai region national parks are preferred to visit in the month of October to March. In these months there will be average temperature which will offer travelers incredible climate experience. The month of April to June is the hottest season in Nepal, which will make trip humid-full. And July to September month is the rainy season, which may make jungle tour difficult.