Gokyo Lake and Gokyo Ri Trek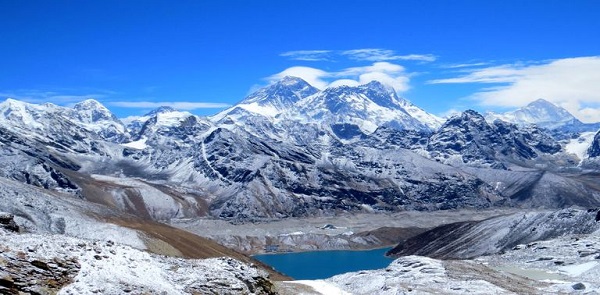 July 31, 2019
Gokyo Lake and Gokyo Ri trek in Nepal is an alternative trek for an exceptional view of the world's highest peak Everest. Single trek of Gokyo Lake and Gokyo Ri will offer you a great view of the Mount Everest, explore great lakes, stunning glaciers, and vegetation. Ngozumpa Glacier, the biggest glacier in Nepal, where you will find the source of the glacier is Dudh Koshi River is really remarkable. Exploring one of the most astonishing and amiable holy places in the Everest region of Nepal is one of the best experiences for once life. Everest region is fused with the stunning eye-catching views of the gorgeous Everest region and snow-capped mountains of its vicinity, exotic scenery of holy lakes, and many more. Every year, thousands and thousands of trekkers make this amazing place as one of the most famous and prefer destinations throughout the world. Gokyo Lake and Gokyo Ri Trek in Nepal is well known scenic less trodden trek which is considered as it is the best alternative to the classic trek of Everest Base Camp. Enrolling with Himalayan Holy Land Trek for Gokyo Ri and Gokyo Lake Trek packages will offer travelers a golden opportunity to explore the solitary valley, a parade of snow peaks together, sparkling glacier lakes, stunning glaciers, high alpine yak pasture and their unique Sherpa culture in the lap of the Everest region. Legendary trekking trail takes us to the wonderful Valley by following beautiful rhododendron and conifer forests and the most owing Renjo La Pass. As you reach amazing Renjo La Pass there you can enjoy impressive views of the four of the eight highest mountains along with the Everest including Cho-Oyu, Makalu, Lhotse, and many more. The Holy Gokyo Lake is situated at the summit of 4750m and nearby Gokyo Ri which display excellent views of the beautiful lakes with the stunning views of the Mt Everest and its vicinity is really worthwhile to visit. Exposing splendid views of the above 8000m Himalayas including Lhotse, Makalu, Cho Oyu, Everest and many more, able to captivate many travelers every day.
The way to Gokyo Lake and Gokyo Ri
Gokyo Lake and Gokyo Ri Trek begins with an amazing scenic flight from Kathmandu to Lukla. Around 35 minutes marvelous flight offers you spectacular aerial views of Mountain Vista before taking us to Lukla, the gateway of Everest Base camp trek. We can officially head our trek onwards to Pakding and Namche Bazaar through following beautiful Dudh Koshi River. Several ups and down trek will take us to Namche Bazaar as the rest location, where we can explore Namche Bazaar and Sherpa culture. Gradual trekking ahead will lead us to a great viewpoint called Gokyo Ri which offers breathtaking views of diverse mountains including Mount Everest. Not only that you can also explore breathtaking Gokyo Lakes and many unexplored lakes around there. Finally, after amazing exploration, you will return back to Lukla and take a flight back to Kathmandu from Lukla.
Best Time to explore Gokyo Lake and Gokyo Ri
Most of the trekkers consider during summer and winter seasons are the best seasons to explore its scenic wonders and panoramic views of the Gokyo Lakes. From March to May (summers) and September to December (winters) is the ideal season to trek and explore beautiful Gokyo Lakes. Although the winter season is a cold season, you can enjoy the crowd-free trek with amazing scenic views. In these seasons, it is easy to trek around 6 to 7 hours every day and enjoy stunning views of the Himalayan ranges, green valley, and villages.
Short Itinerary
Day 01: Arrival in Kathmandu (1300 m/4264 ft)
Day 02: Kathmandu: Sightseeing and trek preparation day
Day 03: Fly to Lukla (2,800 m/9,184 ft), trek to Phakding (2,652 m/8,700 ft): 3 – 4 hours
Day 04: Phakding to Namche Bazaar (3,440 m/11,283 ft): 5 – 6 hours
Day 05: Namche Bazaar : Acclimatization
Day 06: Namche Bazaar to Phortse (3810 m/ 12,496 ft): 5 – 6 hours
Day 07: Phortse Village to Machhermo-(4,470 m/ 14,663 ft): 5 – 6 hours
Day 08: Machharmo to Gokyo (4800 m/15,744 ft): 5 – 6 hours
Day 09: Gokyo Valley explore day: Climb Gokyo Ri (5357 m/17,570 ft) and hike to fifth lakes: 5 – 6 hours
Day 10: Gokyo to Dole: 3 – 4 hours
Day 11: Dole to Namche Bazaar: 4 – 5 hours
Day 12: Namche Bazaar to Lukla: 6 – 8 hours
Day 13: Fly back  to Kathmandu
Day 14: Final departure day
Gokyo Lake Trek Highlights
Legendary trek through the peaceful, off-the-beaten-paths of the Everest region and reach Gokyo valley.
Stunning views of the sunrise/sunset over Mount Everest and other neighboring peaks from Gokyo Ri (5357 meters).
Take an awesome photograph of the unspoiled and crisp Gokyo valley.
Delve into the serenity of the dazzling glacial lakes
Explore one of the biggest glaciers in the Khumbu region- Ngozumpa glacier.