Mardi Himal Trek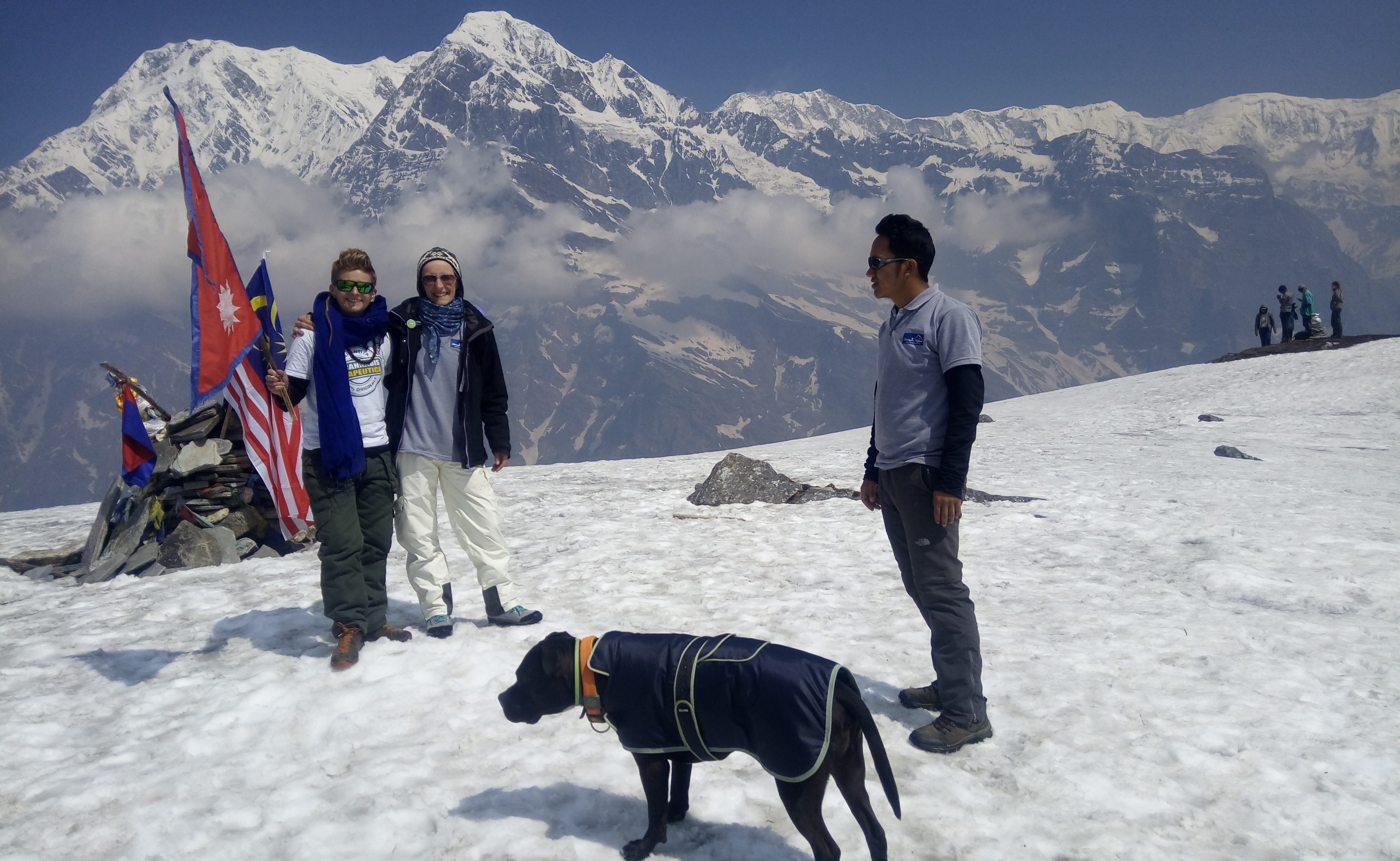 August 26, 2019
Introduction to Mardi Himal Trek
Himalayan Holyland Treks & Expedition offers you a unique and adventurous experience of Mardi Himal Trek in Annapurna Region of western Nepal. Following the beaten trekking trails of shepherds, you will find several tea houses with basic facilities. Mardi Himal Trek is a relatively short and easy trek in Nepal. The trekking trail of Mardi Himal is filled with the diverse cultural settlements where travellers will get an opportunity to grasp highly diverse cultural insight. Picturesque and overwhelming soaked view of green hills, snow-capped mountain and beautiful pristine forest of rhododendron, oak and bamboo will accompany you during your trekking. By having a constant view of Annapurna and Dhaulagiri mountains range at the west side of the trail, and Machhapuchhre and Manaslu range in the east side will add more excitement toward your trekking. Situated at the beneath of Machhapuchhre, Mardi Himal Trek offer spectacular mountains views, beautiful forests, alluring valleys, wonderful lakes, waterfalls, and many more on the way to Mardi Himal. This amazing trek begins from a beautiful city called Pokhara and driving journey to Kande. From there we will officially begin trekking onwards by following the Pothana or Deurali. Reaching different locations such as forest camp, Low Camp, High Camp, Badal Danda and finally Mardi Himal Base Camp and exploring the place's specialities is really amazing to have.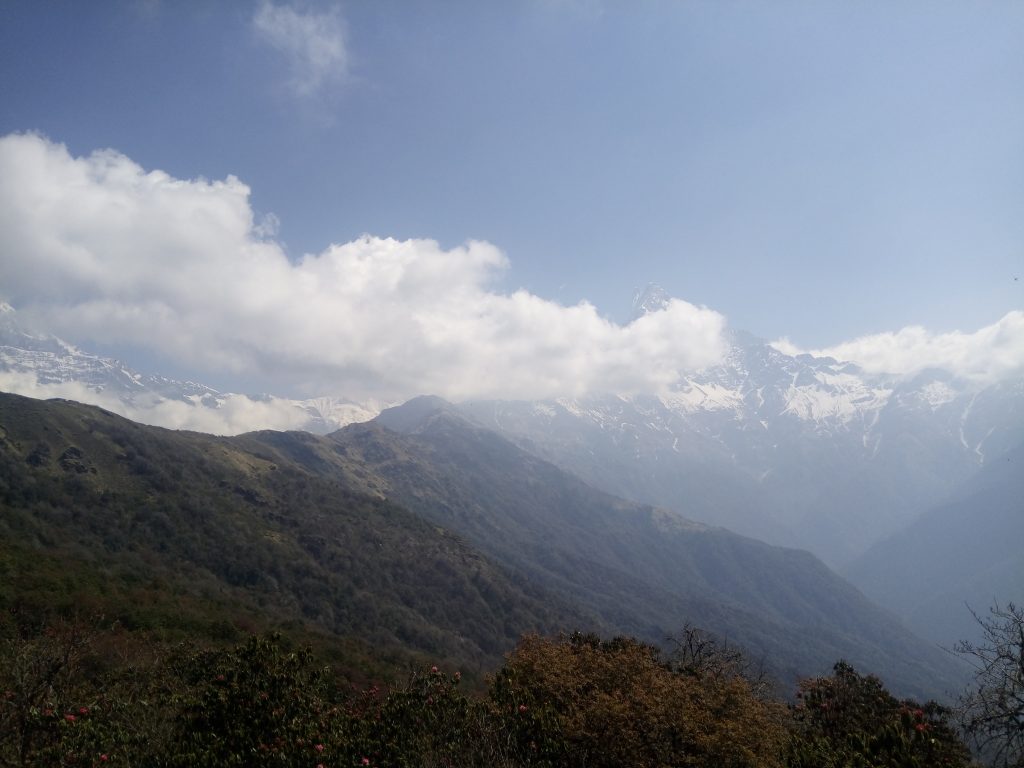 MARDI HIMAL TREK SHORT ROUTE:
Mardi Himal Trek-5 days short trek route begins from Pokhara with the striking, charming and awe-inspiring snow-capped peaks along with green hills, and follow the beautiful Kande and Deurali. By exploring Low Camp and High Camp, trekkers will finally reach the Mardi Himal Base Camp and explore the place. After exploring Mardi Himal Base Camp, they will return back by following a familiar route. Short itinerary of Mardi Himal Trek is as follow:
Day 01: Drive to Kande and trek to Pothana / Deurali (2,125m)
Day 02: Trek to Low Camp (3,150m)
Day 03: Trek to High Camp (3,700m)
Day 04: Hike to Mardi Himal Base Camp(4500m) and trek down to Siding (1700m))
Day 05: Drive back to Pokhara by jeep
MARDI HIMAL TREK FACTS:
There are some facts that you need to before going for Mardi Himal Trek.
Mardi Himal Base Camp is situated at the 4500 meters (14763ft.), which is the highest point of the trek. The highest and lowest sleeping point of Mardi Himal Trek is at high camp and low camp with 3580 meters (11745ft). Mardi Himal Trek will offer stunning views of Annapurna Range including Machhapuchhre (6993m), Annapurna South (7010m), Hiunchuli (3441m), and its vicinity.

WHY MARDI HIMAL TREK?
Firstly, Mardi Himal Trek In Nepal is short and easy trek as compared to other treks and it is suitable for those people who are eager to explore the less-visited area of the Annapurna region in Nepal. It is less visited treks where trekkers don't have to face over-crowded while trekking. They can enjoy and explore the unadulterated natural beauty and ethnic cultures of the area. The region is fused with the raw opulence of the natural beauty and rich folk culture and tradition. The striking views of the Annapurna Mountain with low-lying local villages at the foothills of the Himalayas ornamented with rolling terrace farms will accompany while trekking and provide one of the best experiences that you ever had.
COST / TIME / DURATION:
Before making Mardi Himal Trek, so please know which time of the year is best to go and explore Mardi Himal Trek in Nepal. Although every trekkers or traveller may have different taste of time to travel in, most of the trekkers preferred Spring and Autumn- seasons as their ideal choice to visit and explore the place perfectly. In these seasons, skies are clear to views striking snow-capped peaks and the weather and temperature are also fine to make the pleasing walk around 5 to 6 hours a day. Himalayan Holyland Treks & Expedition will be organized 10 days Mardi Himal Trek Package for you including proper accommodations. Regarding the cost of Mardi Himal Trek in Nepal, it depends on the season, group size, budget, and standard that you choose to make. Normally, Our offer starts from USD 399.00 per person. Choosing a flight or drive tour will change slightly in its cost.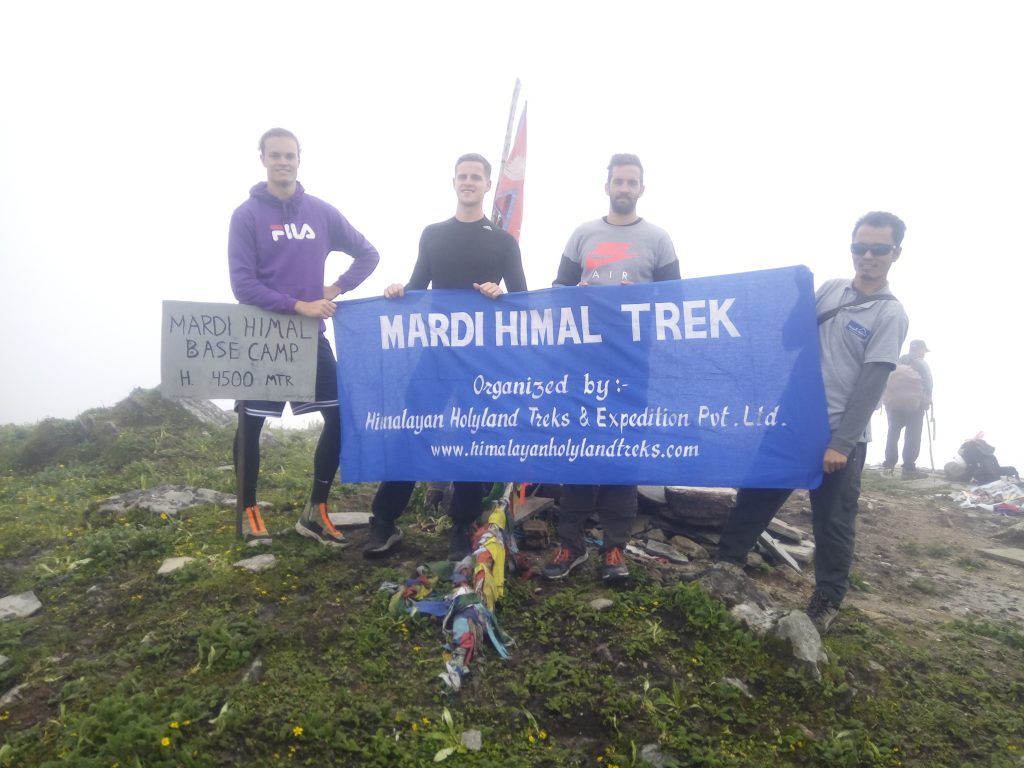 DIFFICULTY DURING MARDI HIMAL TREK:
Before starting Mardi Himal Trek, travellers should have knowledge of Mardi Himal Trek Difficulties that may have to face during trekking days. Sometimes unpredictable weather may cause some difficulties during trekking and may change itinerary too. Travellers should have the ability to work in a team, which will help to make your trek one of the best treks that you ever had. Before booking Mardi Himal Trek package, you have to accept all these conditional risks and should have responsibility for your own action and involvement.
TRIP HIGHLIGHTS:
Mardi Himal is a Less crowded trek in Nepal.
Enriched in exotic flora and fauna.
The overwhelming view of Annapurna ranges, Machhapuchhre (Fishtail), and Dhaulagiri.
Unspoiled cultural and traditional experiences.
The first ascent to Mardi Himal was in 1961 and the route was its East Flank.
This trek is highly regarded as 'Eco-Tourism route' in the Annapurna region.
Beautiful, remote, stone-built villages like Siding, Lwang, Phedi.
The Mardi Himal Trek passes through lush green rolling hills.
You can also see pristine rhododendron, magnolia, pine, and oak forest along the trails.
One of the hidden trekking gems of Nepal.
MARDI HIMAL TREK ITINERARY:
Day 01: Arrival at Kathmandu airport (1,300m/4,264ft).
Day 02: Drive to Pokhara from Kathmandu (827m/2,700ft): 6-7 hours.
Day 03: Drive to Dhampus Phedi and trek to Deurali (2100m/6,720ft): 30 minutes drive, 4-5 hours trek.
Day 04: Deurali to Forest Camp (2,520m/8064ft): 6-7 hours.
Day 05: Forest Camp to Low Camp (2970m/9504ft): 5-6 hours.
Day 06: Low Camp to High Camp (3540m/11,328ft): 3-4 hours.
Day 07: High Camp to Upper View Point (4250m/13600ft), return back to High Camp: 2-3 hours.
Day 08: High Camp to Siding Village (1700m/5440ft): 6-7 hours.
Day 09: Drive to Pokhara and fly to Kathmandu: about 2.5 hours drive and 25 minutes flight.
Day 10: Final departure Day.
How Fit Should You be for the Mardi Himal Trek?
Although Mardi Himal Trek is considering an easy and short trek in Nepal. The trekking trail of Mardi Himal is moderate, even though travellers need a certain level of fitness to make comfortable trekking experience in Nepal. While trekking onwards to Mardi Himal Base Camp from High Camp, the trail may be challenging. To make your trekking easy and comfortable, you can take some training in trekking, which will make your trek easy for you.
Permits for Mardi Himal Trek:
Trekkers or travellers needs two different trekking permits to go and explore Mardi Himal Trek In Annapurna Region of Nepal. First, they should have the Annapurna Conservation Area Entry Permit (ACAP). Some of the parts of Mardi Himal are conservation area so that travellers will need ACAP permit to go and explore it.  Then the next one is Trekkers Information Management System (TIMS) card for a foreigner. You can find these two trekking permits in Kathmandu. In Annapurna Region, there you will find various checkpoints, where you have to show these two trekking permits card to enter inside and explore Mardi Himal Region.

Weather and Temperature at Mardi Himal Trek (season wise):
While considering the weather and temperature of Mardi Himal Trek in Nepal, it seems unpredictable. It is essential to know about Mardi Himal weather and temperature before going for a trek. Many trekkers consider all time of the year is best for Mardi Himal Trek, even though spring and autumn seasons are pleasing seasons to make trekking in Nepal. The temperature of Mardi Himal region is moderate throughout the year, where the maximum temperature goes up to 15 degree Celsius and the minimum goes up to 3 degree Celsius. We can look weather and temperature of Mardi Himal Trek as seasons wise.

Mardi Himal Trek in Spring and Autumn:
Spring and Autumn seasons are one of the best seasons in Nepal to make Mardi Himal Trek. In these seasons the weather is clear where travellers can see clear and wonderful views of the stunning Himalayas, forest, villages, and beautiful surrounding. Temperature is also considered so that travellers can explore varied flora and fauna. In these seasons you can have breathtaking views of the crystal-clear sky and outstanding landscape of Mardi Himal and its vicinity. The trekking trail is moderate with a very less ascending and descending route.
Mardi Himal Trek Monsoon:
In Nepal, June and August are monsoon seasons even though the days of these seasons are clear with a pleasant sky. Trekkers can observe glorious mountain views and its surroundings. The average temperature of this season is 17 to 20 degree Celsius. In the evening, the temperature may reach 5 to 10 degree Celsius due to occasional downpour. So, in these seasons, trekkers should take rain gears that include rain jackets, trekking boots, and waterproof pants with them.
Mardi Himal Trek in Winter:
In this winter season, Mardi Himal Region seems dry and the stunning mountain ranges are covered with the snow and the trail is sloppy. In this season the chances of rainfall are less but cold air may cause the common cold and other diseases. Normally in this season, the temperature goes up to 9 to 12 degree Celsius in a day and 5 degree Celsius at night.

BEST TIME TO VISIT MARDI HIMAL:
Although around the year is the best time to visit Mardi Himal, most of the trekkers are more conscious about favourable weather and the temperature for having the best visibility. Spring and Autumn seasons are considered as the ideal time to visit and explore the Mardi Himal Trek in Nepal. The Spring season consist March to May month while Autumn season consists October to December month.
ACCOMMODATION DURING MARDI HIMAL TREK:
During Mardi Himal Trek, we will provide 3 stars hotels for accommodations in Kathmandu and Pokhara. Travellers can stay in lodges/tea houses during the trek. The Mardi Himal Trek is purely considered as a tea house trek. All accommodations of Mardi Himal Trek are on a twin sharing basis on local guest houses. It seems almost impossible to provide single accommodation facilities in lodges. Travellers should share toilets.
MEALS DURING MARDI HIMAL TREK:
Himalaya Holyland will provide you three times food per day that includes breakfast, lunch, and dinner. You will have dinner in the tea house, hotel, or lodge.  You will be provided with local meals, where you don't have more options to choose from. The food you will provide will be organic and natural. Basically, the food menu you will get during your trekking includes Bhat (rice), Dal, Tarkari (vegetable), Momo, and noodles on top priorities. You will also get drinks that include tea, coffee, and some flavoured drinks.
What is included?
Before making treks onwards Mardi Himal, the cost of trekkers includes in these various factors.
Airport picks up and drops for international as well as national flight.
Accommodation in Kathmandu & Pokhara with BB basis.
Accommodations in local hotel/lodge.
Three times meals including breakfast, dinner, and lunch.
Extra tea/coffee and hot soup at the high altitude if necessary.
Farewell dinner in Kathmandu.
Transportation as per the itinerary.
Professional and experienced local guide.
Insurance for Guide and Porters and provide necessary service.
Trek permits and TIMS (all necessary documents).
Accommodation and food for Porters and Guide.
Government and Local taxes including airport taxes.
All medical service (medical kit).
Trip completion certificate.
Trekking map and company T-shirt.
What is excluded?
Visa for Nepal.
International flight to and from Kathmandu.
Lunch and dinner at Kathmandu & Pokhara.
Clients insurance for travel and rescue.
Trekkers personal expenses such as; Hot shower, battery charge, laundry service, bar bills, and mineral water.
Extra day and night accommodation (beyond itinerary).
Tips for guide and porters.
Packaging Lists for Mardi Himal Trek:
Before starting the trek, you have to pack some essential things. The things you have to pack depends on the time of the year that you are going to trek. Here are some lists of things that you need to pack.
A pair of trekking shoes and socks
Jacket, nice fleece, and windcheater
Trekking T-shirt, and pants
Trekking sandals
Sunglasses
A Hat
Sunscreen Lotion
First aid kits
Trekking Gloves
Toiletries: Hand Sanitize, tissue paper, towel, toothbrush and paste, shampoo, and soap
A comfortable backpack with a cover
Thermal wears, Breathable underwear
A good quality Sleeping bag, and many more
Conclusion:
Mardi Himal Trek is one of the best treks in Nepal. It is also considered a short and easy trek in the pristine terrains of the Annapurna region. Himalayan Holyland will provide you with one of the best trekking experience in Nepal. Most of the trekkers consider Mardi Himal Trek is a thrilling trek where trekkers can recollect multiple experiences in the diverse sceneries. So, make a vacation trip with Himalaya Holyland Treks & expedition.