Everest Base Camp Trek Cost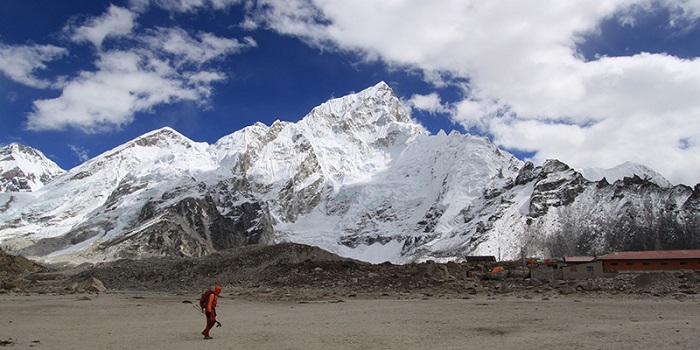 May 20, 2019
Everest Base Camp Trek Cost depends on the itinerary packages and group size. Normally the cost of world Highest peak ranges from USD $1000 all the way to $3000 per person for an average trek of 10- or 21-days trek to Everest Base Camp. The Cost of Everest Base Camp includes trek permits, Guide and Porter cost, TIM's card, round trip flight to and from Lukla, Meals, Drinks, accommodation, travel insurance, visa fees, trekking equipment's, and other personal expenses and required kinds of stuff.
Everest Base Camp Trek is one of the most famous and adventurous treks in Nepal, which offers you breathtaking views of the major peaks including Mt. Everest, Mt Makalu (8,485m /27,838 ft), Mt Lhotse (8,516m /27,940ft), & the giant Cho-Oyu (8,201m /26,906ft). Everest Region is loaded with the stunning Himalayann peak, century old monasteries, several ethnic Sherpa settlements, Sagarmatha National Park with rare flora and fauna, and many more. Another major attraction of this legendary trek is Kalapathar, a famous viewpoint which also offers you world best views of incredible sunrise, sunset, and clear view of stunning mount Everest. Trekking in the legendary foothills with the accompanying of mighty Everest with its vicinity, trekkers will get chances to encounter with the several Sherpa settlements and explore great notebook stuff cultures and traditions, which put more zest into your adventurous trek in the Khumbu Region of Nepal.
Although many trekkers consider this legendary trek as a psychological thrill and adventurous trek for novice trekkers who may need some training about hiking. This amazing trek begins with the stirring mountain flight to and from Lukla. As you reach to the Lukla, the trekking point and begin trek ahead by following several villages of remote areas. Trekkers will acclimatization at Namche Bazaar, the famous Sherpa bazaar and make short hike for Everest Hotel and have stunning views of sunrise and the breathtaking Himalayas. Namche Bazaar is a well-known Sherpa folk's who inhabit in this region and their culture is worth noting.
Further, trekkers will get a golden opportunity to explore Sagarmatha National Park, the home to diverse rare and endangered flora and fauna. After passing several colorful villages, Buddhist monasteries, rivers, and other natural surroundings, trekkers will reach the world highest peak, Everest Base Camp and they will explore its exotic beauty of Mt. Everest and return back to Kathmandu by following a different route.
Cost of Guide and Porter
Everest Base Camp Trek is almost impossible without a guide or porter. You may choose either you desire to trek with the guidance of Guide or Porter. The guide will help you to explore the place, people and their unique cultures, traditions, booked proper accommodations, meals, even in caring your baggage and important things with you during your trek to Everest Base Camp. Guide and Porter will be always there to help and support you. Himalayan Holy Land Trek will offer you fully insured, well trained, professional, English speaking and skillful guides to make your trek problem free. Without a guide, you may suffer from the health problem, altitude sickness, route difficulties, accommodation and food management problem, and many more.
These friendly Guide and porter cost range from USD $20 to $30 per day for daily standard. If you have heavy about 15kg up to maximum 22 kg baggage, then their hard effort and bravery will cost $15 to $18 per day.
Cost of Accommodations and Food
Due to the highest altitude of Everest Base Camp, trekkers need to take proper accommodation during their trek. Before you trek, you have to book hotels and lodges to make your accommodation flexible and rest with sound sleep. Himalayan Holyland Treks & Expedition will book standard hotel or lodge for you in an affordable price that ranges from USD $5 all the way to $40 plus per person. If you are lucky then you may get a cheaper room for accommodation, especially in offseason. Almost all hotels and lodges offer you delicious organic food and family environment, where you can enjoy to the fullest.
Trek Permit and TIMS Card Cost
If you are trekking with us then you require TIMS card, blue in color, which cost USD $10 per person and it helps rescue from the problems such as altitude sickness, frostbite and many more from Guide or Porter. Next one is Entry Permit to obtain the Sagarmatha National Park entry permit. It cost about NRS. 3,500. This permit, you can directly issue in National Park Entrance place at Monjo or through the Nepal Tourism Board, Bhrikuti Mandap, Kathmandu.