Manaslu Circuit Trek Difficulty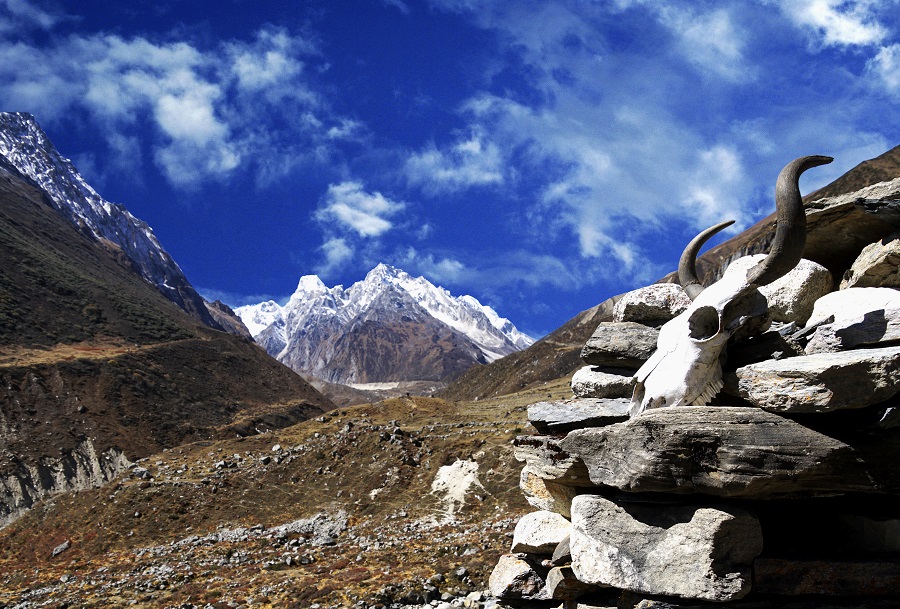 November 26, 2019
Introduction to Manaslu circuit Trek
Do you know that although Manaslu is the eighth highest mountain in the world, it is just 700m smaller than Mount Everest? But despite being smaller than Mount Everest in its height, the Manaslu Circuit Trek is equally difficult as the Everest Base Camp Trek. But the difficulties on your way yield one of the most beautiful human experiences as you witness rivers passing through remote villages, forests decorating the landscapes of the surrounding hill and your trail, the waterfalls, and wondrous vistas of mountain ranges.
The name, Manaslu, is derived from the Sanskrit word Manias, meaning intellect or a soul. Thus, the trekking will not only be a physical triumph for you, but it also will be a spiritual one.
To assist you in exploring the information about the Manaslu Circuit trek thoroughly, we have produced a meticulous list of difficulties you might face during the trek. Here we go:
Travel and guide permit for Manaslu Circuit Trek
The Manaslu Circuit Trek is closer to Tibetan Region Border, the border between Nepal and China and is also a protected area under Nepal Government. You are, thus, statutorily required to carry a travel permit. Also, you are not allowed by the law to trek alone. All the trekkers who are not the citizens of Nepal are required to possess a trekking permit along with a registered guide.
Long Distance with Challenging Geography
It is located in northern Nepal which lies 64 kilometers east of the Mount Annapurna, in between Gorkha and Manang Districts. The trekking takes you as low as 228m and as high as 5,123m. It is practically a roller coaster experience. On this trek, the biggest challenge will be crossing the Larkya La Pass which lies at the altitude of 5,123 m. The total distance you shall cover during the span of this trek is 177km with an average walk of 15 to 20 Kilometers in a day which can be exhausting and challenging. The general itinerary of the trip is designed for 17 days in which enough time is allocated for acclimatization. There is a high chance of altitude sickness as you will be trekking at a high altitude.
The weather of Manaslu Circuit Trek
The weather will be truly challenging. The area is said to consist of six climatic zones — tropical, subtropical, temperate, sub-alpine, alpine, and arctic, and ranges from below 1000 to over 5000 meters. It can be scorching hot during the day and cold during the night. You should travel during Pre Monsoon or Post Monsoon weather if you want to enjoy the trek at its fullest.
During the winter (December to Late February) the teahouses are often closed and the villages are often empty as the villagers choose to migrate to somewhere warmer. The daytimes are somewhat manageable in the winter, however, it is during the night and the early morning that will test your gears, and you, physically and mentally. The temperature can fall to as low as -20 degrees Celsius. During the winter the Larky La Pass will be closed because of heavy snowfall. This might limit you from enjoying the trek at its optimum capacity.
During the Summer (June, July, and August), the monsoon reigns. The trail becomes slippery, muddy and full of leeches. It might make passing Larky La pass a challenge. Strong trekking boots and waterproof clothes and gears are highly recommended. Otherwise, the sky becomes clear after the rain and streams and waterfalls are filled with water which views you can rejoice.
In the spring, which is the best time for the Manaslu trekking, the skies are clear and the visibility knows no bound. You get to relish the views of seductive mountain ranges and varieties of floras and faunas on your way. The chance of rain is near to none and the trail is clear. During the night, unlike other seasons the temperature doesn't reach the freezing point.
The Autumn (September to November), is also the peak time for the trekking. It has similar characteristics like the weather during the spring and you get to relish the trekking experience to its maximum capacity
Physical and Mental Preparation is Required Manaslu Circuit Trek
When it comes to hiking, the best practice is hiking itself. Walk on uneven trails, up and down, with moderate packs of 7-12 kg maybe. If you can hike up to 10 to 15 km in one day with relative ease, you will have mustered up enough to trek in normal trials. Also, work on your cardiovascular training for hearts and lungs as there will be lower oxygen levels at higher altitudes. Since you will be carrying heavy backpacks and gears throughout the journey, we suggest you work on your muscular strength especially in your lower body area. A short walk up a hill, short training on the stationary bike, some short bike rides, jazzercise tapes, and other minor exercises will help you a lot. Gradually build on it with longer hikes on higher hills, and long bicycle rides and so on. Keep in mind that going slow is often mandatory when ascending, otherwise one can choose to go at any speed.
Voila! Now you will be physically prepared for what Manaslu Circuit Trek has in the offer.
For Mental preparation, conduct thorough research before embarking on the journey. The small hikes on the hill will give you the estimation of how the circuit trek will be. Prepare your mind for the worst and expect the best.
Budget for Manaslu Circuit Trek
The budget can be challenging if you do not do thorough research. The visa costs, the ticket fares, the hotel and lodging cost, local transport cost, the cost of permits and legal documents, the cost of accommodation during the treks and so many other details should be considered before embarking on a trek. Choose a trustable tour company with a good reputation which can be done by minor internet searches. Read client reviews and the description of the trek you want to go on to finally decide.
Packing lists for Manaslu Circuit Trek
As you will be facing every kind of climate during this trek, the packing will be a little tricky.  Here is the list of Gears you should be carrying with you in Manaslu Circuit Trek:
For Head:
A Hat, Cap or Scarf (Waterproof recommended)
Light Balaclava or Warm Fleece headgear
Sunglasses and Snow goggles with UV protection
Sun cream
For Upper Body:
T-shirts (Carry few waterproof ones that easily absorb moist)
Expedition Thermal Tops
Chest Covers, if you feel like.
Fleece Jacket
Fleece Wind-Stopper jacket (The Weather Becomes Windy At Times)
Waterproof (breathable fabric) Shell jacket
Down Vest or Jacket
For Lower Body:
Under Garments (That absorb Moist is preferable)
Hiking Shorts (Preferably Waterproof)
Lightweight Cotton long pants and Pants that can be converted to Shorts
Expedition weight thermal bottoms
Fleece or wool pants (seasonal)
Waterproof (breathable fabric) shell pants
For Feet:
Thin, lightweight inner socks (Carry as much as you can)
Thick, warm wool hiking socks (Carry as much as you can)
Strong Hiking boots with spare laces
Camp shoes and Sandals needed during your stay at Camps, hotels, and lodges
Gaiters for hiking in winter to the base camp if snow there (It will be often provided by us)
For Hands:
Lightweight Inner Gloves
Heavyweight Gloves or Mittens with a waterproof shell outer (seasonal)
Other Complementary Accessories:
Sleeping bag rated to zero DC * (4 seasons down sleeping bags)
Trekking Bags/Duffel bag
Basic First Aid Kit (the company also will provide you one)
Headlamp with spare bulbs and batteries
Large plastic bags – for keeping items dry inside your kit/duffel bag
Trekking Poles (optional)
Water bottle (2) or cameo bag
Day pack (approximately 2500 to 3000 cubic inches / 10-15 liters / KG capacity)
Toiletries (Small wash towel, Toilet papers, etc)
Sanitary Products:
1 medium-sized quick-drying towel and one large-sized if you are traveling with family
Toothbrush/Paste
Multipurpose soaps (preferably biodegradable)
Nail cutters
Moisturizers for face and body
Hygiene products
A Mobile and Handy Mirror
Wet wipes (baby wipes)
Tissue /toilet roll
Sanitizers
Extra Optional Luxuries:
Camera
Binoculars
Reading book
Trail Map/Guidebook
Journal, pencil & Pen
iPod or similar devices
Travel game i.e. chess, backgammon, and cards
 Some tips that will be helpful during the span of Manaslu Circuit Trek
Always keep track of weather forecasts
Double-check what is covered under your Package Cost
A reputed and experienced trekking agency can save you from the hassles of acquiring different legal documents and permits
Always have travel insurance and make sure that the contract covers the height that you will be trekking to. Carry a copy with you.
Always carry copies of your identifications and other important documents
Drink water, lots and lots of water
Carrying snacks, chocolate and candies and protein bars will help you recharge yourself during the journey
Avoid consuming alcohol at all cost
Trek Slowly. You are not racing anybody.
Finding clean toilets will be near to impossible at times. Prepare yourself for that by carrying extra tissues and other necessities.
Carry solar-powered charger for your phone, cameras and electronic gadgets.
Do not skip Acclimatization days
Without a doubt, Manaslu trek is indeed challenging but how often do you get the chance to reach the foot of one of the world's tallest mountains? Follow the guidelines and tips on our article and be prepared. If you follow the basics, you can conquer the Manaslu Circuit Trek easily.
The heavenly Manaslu Circuit Trial will show you the glimpses of heaven. Keep your eyes wide open. Experience the hospitality of people from various cultures and be prepared to be close to nature. At the end of this journey, your spirit will be rejuvenated as your soul will feel one of the best living experiences. Life is short, make it beautiful. May the force be with you!