Annapurna Circuit Trek Map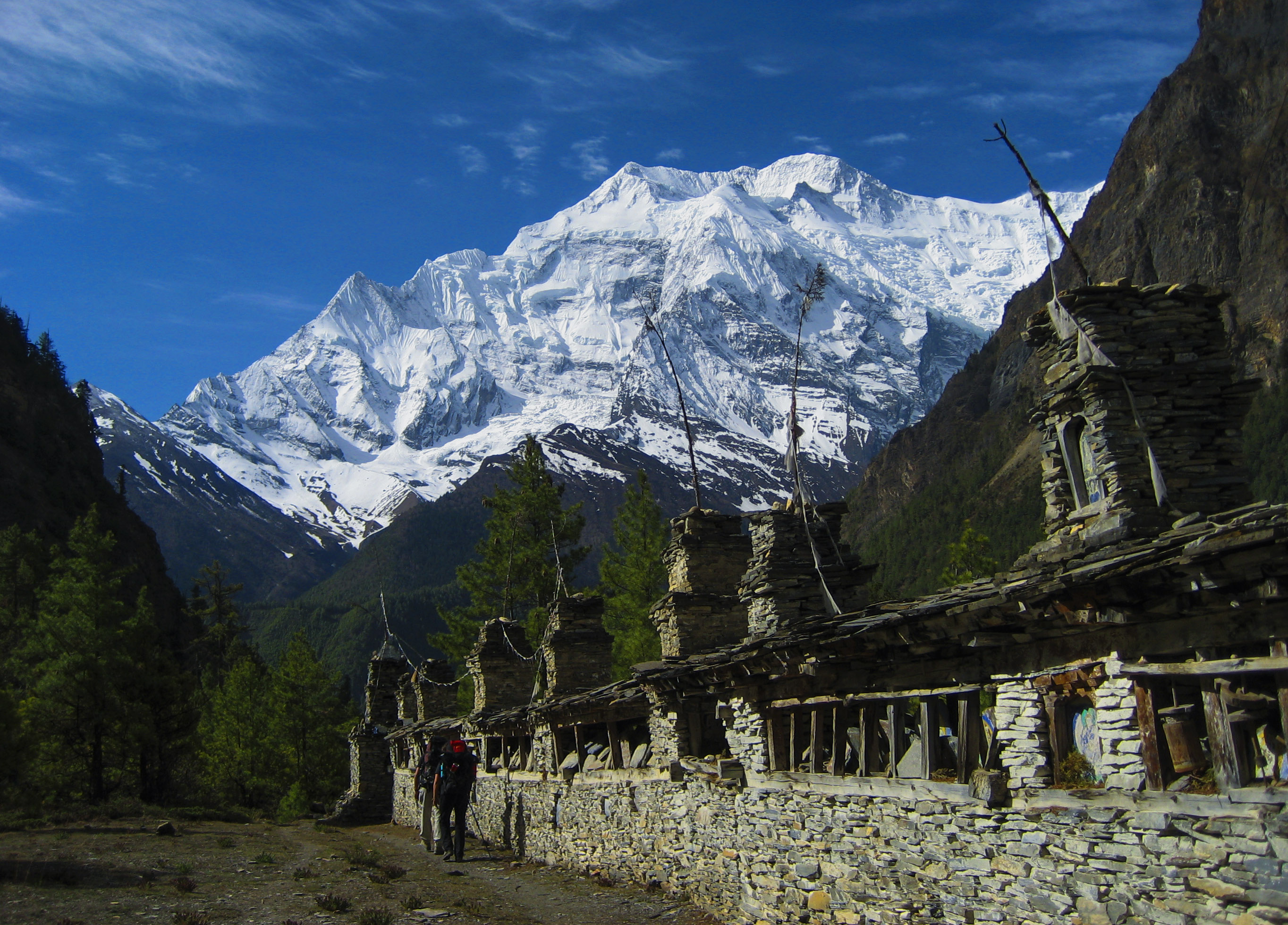 October 21, 2019
Introduction to Annapurna Circuit trek
Annapurna Circuit trek is one of the very famous and adventurous treks in Nepal. Its map will help its trekker to find an easy and direct way to get Annapurna. With the help of a map, we can easily avoid motor roads and follow the right path. We can know the distance and time that we need to trek. By knowing the distance and time of everyday trek then we can plan our trek in advance and a steady pace of trek, which will help us to avoid stress and fatigue.
This exciting Annapurna Circuit trek will follow the world's deepest Kali Gandaki Gorge and take us to the Thorong La Pass (5416m/17769ft.). As we reach the Annapurna Circuits where we get a chance to explore the entire Annapurna Massif. You will be amazed to a view of Annapurna I (8091m) rising to the east and Dhaulagiri (8167m) to the west during your trek to Annapurna Circuit. This astonishing trek will begin from the tropical valley of Besisahar by following the beautiful Marsyangdi Valley down to the Muktinath, Pilgrimage site for both Hindu and Buddhists. On the way to the Annapurna Circuit, you will also get chance to involved in touch with the varied ethnic groups (Gurung, Thaakli, Magar, Manangi and many more) culture and traditions. Many trekkers and travellers appreciate the Annapurna Circuit trek as one of the best and spectacular trekking routes in the Annapurna region in Nepal.
During your trek, Himalayan Holyland will provide you Annapurna Circuits Trek map, which will cover all the trek itinerary of Annapurna and its route. Himalayan trekking trail has fewer communication lines so a map will be the best solution for your confusion. By going through map details, you can easily complete the Annapurna Circuit trek. Annapurna Circuit trek map will be the best guide to achieve your desired destination.
Annapurna Circuit Trekking Map Description
Kathmandu – Bulbule
Maximum altitude: 1400m
Drive duration: 6-7 hours
Annapurna Circuit trek journey will begin from Kathmandu with a wonderful scenic drive to Bulbule. We will follow varied local villages like Besisahar with the alluring views of the green hills and verdant landscapes. This astonishing scene will make our first-day journey amazing and finally reach at Bulbule for overnight stay.  There we will stay at a lodge with excellent facilities.
Bulbule – Chamje
Maximum altitude: 2140m
Trek duration: 5-6 hours
Today early morning after having breakfast, we will officially begin our trek journey onward to Chamje from Bulbule. The trekking trail is easy with several moderate ups and downs. We will pass Bahun Dada, atop of a magnificent ridge from where we can have stunning views of the surrounding. Then we head towards descends trail by exploring the beautiful water streams and terraced farms before we reach the Marshyangdi river. The further continue trek will pass various beautiful suspension bridges and arrive at a cliff in Jagat. As you reach Jagat, you will have a magnificent view of the surrounding hills and the pristine Marshyangdi river streaming is awe-inspiring. Finally, we will stay at Chamje for overnight.
Chamje – Bagarchhap
Maximum altitude: 2160 m
Trek duration: 5-6 hours
Early morning breakfast and continue trek towards uphill by following the rushing Marshyangdi river and Tal (1710 m). we will also follow a steep uphill trail and reach the top of a magnificent ridge. We can have splendid views of the Himalayas from there. The further trek will cross a beautiful suspension bridge and witness at a narrow and beautiful valley with pristine waterfalls. Again, we will continue to trek ahead and climb a long stone stairway from Tal and finally reach at Bagarchhap by following Dharapani (1890m). Before reaching Bagarchhap, we will observe century-old Chortens, typical stone curb houses with flat roofs in the Buddhist settlement villages. We will stay at Bagarchhap for overnight.
Top of Form
Bottom of Form
Bagarchhap – Chame
Maximum altitude: 2650 m
Trek duration: 5-6 hours
Walking distance: 13 km
We will continue trek today after having breakfast and pass rare and endanger flora and fauna in the forest. On the way, we will also get chances to explore coloured Gompa, numerous stone Mani, and prayer wheels. Stunning view of the Mt. Manaslu, Peak 29 and its vicinity will always accompany us. We will reach Danakyu from where we get stunning views of Himalayas and further continue trek ahead Dudh Khola with the south face of Mt Manaslu. The spectacular Marsyangdi river on the left side and the dramatic peak sight of Annapurna II captivate you. Following fir woods and large settlements, we will finally arrive at Chame for overnight.
Chame – Pisang
Maximum altitude: 3300m
Trek duration: 4-5 hours
After morning breakfast, we will continue the journey towards Pisang by following beautiful apple orchard. The further trail will also pass Bhratang by following Oak and Maple forest in a turns steep and narrow path and arrive at Dhikur Pokhari. From here you can enjoy and admire an excellent view of Annapurna IV and the Pangdi Danda (1,500m) which is a black rock rising from the riverbed. Continue trek will allow us to explore an ancient monastery and reach Lower Pisang and then subsequently to Upper Pisang. We will stay overnight at a lodge in Lower Pisang.
Pisang – Manang
Maximum altitude: 3250m
Trek duration: 6-7 hours
After having morning breakfast, we will start our trek via Humde, which is a relatively easy trail and reach Manang. As you reach Manang, we will explore magnificent Mani walls along with the spectacular view of the Pisang Peak and Annapurna III. You can stroll around Manang, a large Tibetan village surrounded by mountains Chulu peaks and Gangapurna. You can also explore varied ancient stupas and monasteries. Finally, we will stay overnight at Manag.
Manang – Ledar
Maximum altitude: 4250m
Trek duration: 3-5 hours
Today also we will have early morning breakfast and we will continue trek ahead by following the beautiful village through an easy trail that turns into a steep ascent 2000m toward Thorong la Pass. We further climb through Tenki and arrive at Ledar at 4200m passing through Jarsang Khola Valley and vegetations steadily. We will trek with the spectacular views of Annapurna, Himchuli, Peak 29 all along the trail. The trail passes through the Gunsang settlement and wooden bridge over the Gundon River and finally reach at Ledar for overnight.
Ledar – Phedi (High camp)
Maximum altitude: 4600m
Trek duration: 3-4 hours
After morning breakfast, we will continue our journey with a steady climb to an edge and descent down to the Marsyangdi River. We then cross a wooden bridge and continue the slender track and finally reach at Thorung La Phedi for overnight.
Phedi – Mukti Nath
Maximum altitude: 5416m
Trek duration: 6-8 hours
After having morning breakfast, today also we will continue trek by following the beautiful Marsyangdi River and cross it. The further trek will take us to the spectacular Thorung La Pass (5416m), from where we can admire breathtaking views of the Himalayas. After exploration, we will descend down for 5 hours to Muktinath a holy site for Hindus and Buddhists. As we reach Muktinath, there we will stroll around and explore the god of salvation and 108 fixed stone taps, a temple devoted to Lord Vishnu, and many more. After exploration, we will stay overnight at the lodge of Muktinath.
Muktinath – Jomsom
Maximum altitude: 3800m
Trek duration: 4-5 hours
Early morning breakfast and explore the area around the spiritual shrine of Muktinath. After exploration, we will descend down to Jharkot, where we will get a chance to observe and explore the old ruins of the palace of King of Mustang, some Chortens, and Gompas around Jharkot. After exploration, we will descend down to Kaagbeni by watching beautiful settlements perched at the edge of Kali Gandaki and Jhang River. Then we will descend down rapidly and reach at Jomsom past Ekle Bhatti. We stroll around and stay overnight at Jomsom.
Jomsom – Tatopani (Natural hot spring)
Maximum altitude: 2743m
Drive duration: 5-6 hours
Today after breakfast we will begin to drive journey from Muktinath through following the Kali Gandaki valley. On the way, we will get chances to observe the settlements like Khingar, Jharkot and overlook the typical Tibetan architecture along with stunning snow-capped mountains of Nilgiri and Dhaulagiri. After 5 to 6 hours' drive, we will arrive at Tatopani, famous for natural hot water. It is believed that once you dip into spring it will heal all the skin disease. You will get this golden opportunity. After bathing in natural hot water, you will explore the place and stay overnight at Ghorepani.
Tatopani – Ghorepani
Maximum altitude: 2874m
Trek duration: 5-6 hours
After morning breakfast, we will begin trek down the trail with terraced farmlands. We will get an opportunity to observe the attractive vegetation in the area, and we will continue trek ahead along with stunning rhododendron, pine, and fir forests and finally arrive at Ghorepani for overnight.
Poonhill – Ghorepani – Nayapul – Pokhara
Maximum altitude: 2874m
Trek duration: 6-7 hours
Drive duration: 1.5 hours
After an early breakfast, today also we will continue our journey with ascending trail to Poonhill for a stunning view of sunset, sunrise, and Himalayas. The overwhelming sunrise over the Annapurna range and Dhaulagiri is really amazing that we will get to witness. After exploration and some photoshoot, we will return back to Ghorepani and trek back to Nayapul. From there we will begin drive journey to paradise city called Pokhara.
Annapurna Circuit Trekking Map – Frequently Asked Questions
➢ Where is the Annapurna region located?
Annapurna Circuit, an adventurous trek in Nepal is situated in the north-central region of Nepal, where we can reach within a few hours' drives from Kathmandu, the capital city of Nepal.
➢ How many hours do trekkers need to walk on a particular trekking day?
Each day trekkers have to trek around 6-7 hours for around 15 days itinerary. Our guide will teach you how to start your early days to balance adequate rests between the trek days and maintain a steady pace.
➢ What is the total altitude gained during each trekking day?
During your trek, there will be several uphill and downhill trails, where trekkers will gain around 500-600m altitude every day. However, we do not trek for more than 600m in elevation as it is not medically advisable.
➢ What is the highest point of the trek?
Thorong La Pass at 5,416m/17,769ft is the highest point of Annapurna Circuit trek in Nepal.
➢ How are the facilities for food and accommodation along the trek?
The food and accommodation facilities are pretty basic, where trekkers will provide a twin sharing room with a shared bathroom in the tea house. You will get the facilities of a bed and blanket and a typical Nepali meal of "Dal, Bhat and Tarkari" along the trail.
➢ What is the total distance covered during the trial?
The total distance covered during the trail is 230 km.
➢ Are there facilities like hot showers and wifi along the trail?
Yes, there are facilities of hot shower and wifi available at lower elevations, but these facilities get sparse as you rise in elevation along the trail