Best Trips For 2019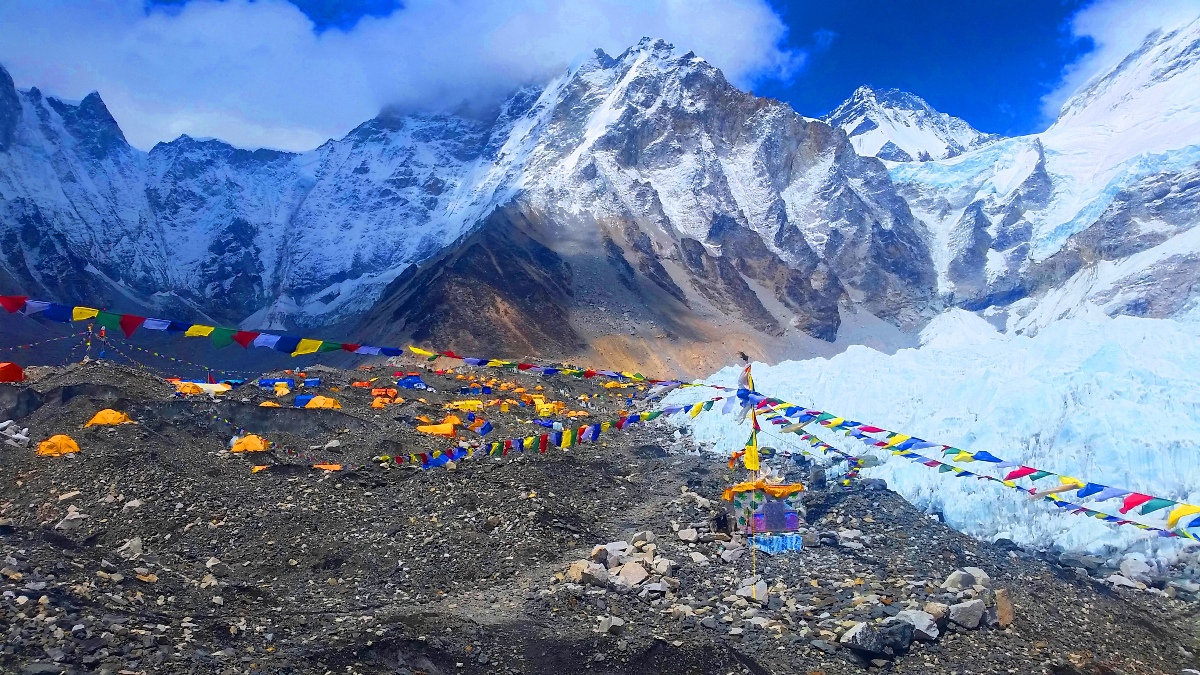 July 1, 2019
2019 A. D. is the ideal year for the global destination. Nepal also has been the focus of the world in terms of vacationing or going on a trip. Nepal is a beautiful nation enriched with ancient cultures and traditions and a majestic and mind-blowing scene to match. For the adventure and travel-minded people searching for the best trips for the year 2019, Nepal is an idealistic choice. Come, join and discover yourself with a visit to the exotic and ultra-memorable place known as Nepal.
Best Trips For 2019
Himalayan Holyland Treks & Expedition are busy preparing with organizing several Best Trips for 2019 to several visitors and trekkers who are already enjoying an unforgettable trekking experience in Nepal, our company has made further interesting plans and trips to make your stay at Nepal a cherish and joyful one.
Everest Base Camp Trek – 15 Days
Thousands of people use this trek to quench their thirst to be at the base of the tallest mountain of the world. The EBC trek is one of the best seller and most sought after a trip to our company.
Langtang Valley Trek – 8 Days
Langtang Valley Trek is an epic trekking experience which is as popular as Everest Base Camp Trek. It is a trekking experience with less crowded trails, awesome scenery, beautiful view of mighty mountains mixed with unique Tamang & Tibetan Culture.
Annapurna Base Camp Trek – 12 Days
Like Everest Base Camp and Langtang Valley Trek, Annapurna Base Camp goes to the base camp of Annapurna Himalayan Ranges. ABC trek brings you close to diverse flora and fauna, beautiful naturally made landscape and vegetation. It also has a unique life of its local people blend with the richness of culture and ancient and historical sites and monuments.
Ganesh Himal Cultural Trek – 7 Days
If you are looking out for the best trips of 2019 in Nepal, then the Ganesh Himal Cultural Trek is one of the best trekking destinations in all of Nepal. This trek is suitable for people with less time to journey unto Nepal. You can view the exotic looking landscape in the northwestern region of Nepal. Furthermore, you can enhance your knowledge by visiting some of the village surrounding the Ganesh Himal Region.
Kathmandu, Pokhara, Bandipur Tour – 7 Days
We at  Himalayan Holyland Treks & Expedition offers you our Kathmandu, Pokhara and Bandipur Trip for those travellers who have less time to explore our beautiful Nepal. Beginning with the glorious sightseeing tour of the Kathmandu valley, you will be able to visit the mesmerizing the Boudhanath and Swyambhunath Temples along with the famous Hindu Holy shrine of Pashupatinaath Temple. While on your trip to Kathmandu, you can also visit the historical significant Kathmandu Durbar Square.
The next tour after Kathmandu valley is Pokhara. During your stay at the lovely Pokhara City, you will be able to view the scenic views of the mountains of Annapurna range. You can also boat around the famous Phewa lake and stroll around the pleasing streets before marching off to Bandipur.
Bandipur is famous for being the ancient Newari settlement. Bandipur is situated between Kathmandu and Pokhara. If you should the culturally ruched Bandipur to learn a lesson or two about Nepalese history. Hence for best trips for 2019, remember our 7 days thrilling journey of Kathmandu, Pokhara, and Bandipur.
Nagarkot Classic View Tour – 2 Days
Nagarkot is 32 km away from Kathmandu valley. During your tour to Nagarkot, you will be able to see the local culture of the Tamang community. Nagarkot having an authentic village life which it seems to be less affected by the city lifestyle. Nagarkot is also famed for perfect viewing of the sunrise as well as sunset who is itself a spectacular sight to see.
Lumbini Holy Tour – 6 Days
Arguably the most famous for being the birth of Lord Buddha, Lumbini is one of the most revered and holy places in the whole world. For anyone planning to visit Nepal in 2019, you should also this sacred and lovely place.
Lumbini is the best place to explore Buddhist art and architecture also. The place is a holy and divine place for Buddhist and Buddhism followers. Lumbini has been listed as one of the UNESCO World Heritage Site. To join our memorable and blissful journey to Lumbini, the revered place of Lord Buddha, Contact us at Himalayan Holyland Treks and Expedition.