A venturesome trek to Gokyo Lake !!!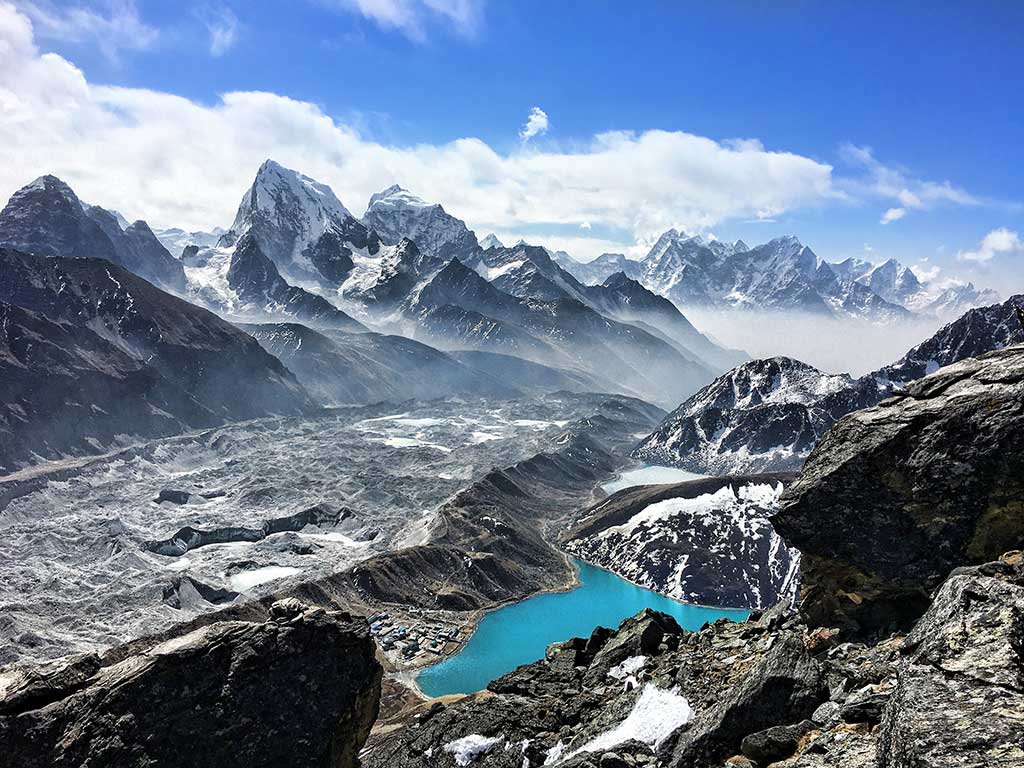 December 14, 2018
Tugged between majestic summits of the Himalayas; Nepal is culturally as well as naturally diverse. Devoured with scenic landscapes, as well as exquisite flora and fauna; the Himalayan nation is home to 8 out of 14 world's lofty summits including Mt. Everest, the highest mountaintop in the planet soaring at the elevation of 8,848m asl.  Moreover, Nepal flaunts manifold ethnic cultures, long-established traditions, structures with marvelous architecture and fine arts, authentic local cuisines as well as legendary hospitality that fascinate each and every travel enthusiasts who explore this stupendous country. However, there are few places, which always manage to stand out from the rest with their overwhelmingly impressive beauty and euphoria they render. In today's blog, I'll be describing one of such places known as Gokyo Lakes.
Before advancing further, I would like to make you all familiar with the fact that there are numerous celebrated touristic destinations located all over Nepal. You can either trek to Everest Base Camp and Kalapatthar Viewpoint to witness exquisite Himalayan vistas or you can go for a Heli tour, which offers the aerial views of the delightful snows-capes. No matter what activity or location you pick, you'll be delighted throughout your adventures in Nepal. Nevertheless, Gokyo Lakes which is situated within the prominent Khumbu Region is indeed one of a kind travel and trek destination for both foreign and native backpackers. A trek to Gokyo Valley commences with a trip to Lukla, a small yet thriving Sherpa town at the elevation of 2,860m asl.  This scenic yet exhilarating flight will provide you with the window of opportunity to witness initial glimpses of snow-capped peaks. The trekking venture proceeds along the Himalayan trail to Namche Bazaar via Phakding village and territory of Sagarmatha National Park, a UNESCO natural world heritage site since 1979 A.D. Making our way across numerous Sherpa settlements; we'll eventually set our foot in Gokyo Lakes. Along the entire escapade, you can take pleasure in the awe-inspiring mountain outlook.
Positioned at the altitude of 4,790m asl; Gokyo Lakes is regarded as a nirvana for travelers who favors a trek on the serene trails leading to the whereabouts blessed with magnificent scenery. Hike to the top of Gokyo Ri (5,357m) and gaze the panorama embracing snow-covered peaks such as Everest (8,848m), Lhotse (8,516m), Makalu (8,485m), and Cho Oyu (8,188m). Besides that, you enjoy the exquisite vistas of Ngozumpa Glacier, Gokyo village, Gokyo Tsho, Cholatse and Taboche towering above. A visit to Gokyo Lakes bestows trekkers with the experience of their lifetime. Autumn and spring are the best seasons primarily because of the fact that the weather stays clear offering high visibility. If you ever come to spend your vacation in Nepal, travel to the enchanting Gokyo Lakes to feel the true grandeur of Mother Nature !!!