Annapurna Base Camp VS Everest Base Camp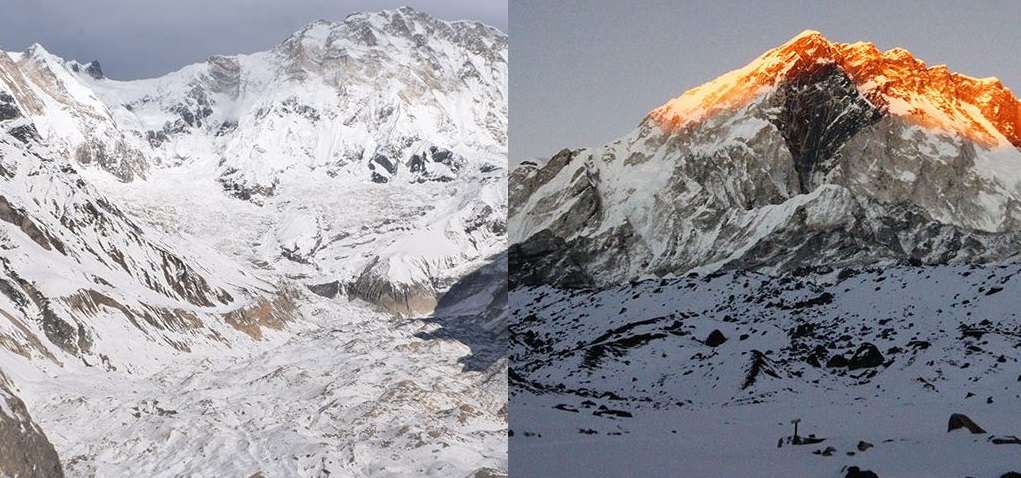 January 4, 2019
Although this article is about two most popular trekking destinations in Nepal; Annapurna Base Camp and Everest Base Camp, every trekking destination in Nepal is unique and carry their own incomparable significance. Trekking in Nepal is a dream for many enthusiastic mountaineers, trekkers, and travelers because of the existence of eight highest mountains of this planet such as Mt. Everest (8,848m), Mt. Annapurna (8,091m), etc., along with varied terrains, green and dense rhododendron forests, diverse floras and faunas, typical Nepali villages having diverse culture and tradition, rivers, waterfalls, lakes, glaciers, and many more. Trekking to the Annapurna base camp and the Everest Base Camp offers you completely different trekking experiences that you will know after visiting such places personally. Even words will fail to explain your internal satisfaction, achievements, experiences, and happiness that you will have during and after the completion of the trekking journey in Nepal.
As we all know, travelling depends upon interests, time availability, budget, and the cause, then if you are ready with these things but confused which place to visit now? Or from where to start? Or which is better? In terms of world's highest mountains; Everest and Annapurna, then coming to the point, here is a short and informative review on trekking trails, weather conditions, highlights, duration of trekking, difficulties, and other things to make you easy for decision making. Observe the difference! The plan which suits according to your time limit, budget, and determination. If you still are confused then contact us via our website or email, we; Himalayan Holyland Treks & Expedition will help you to take the right decision at the right time for the right purpose. Share us your plan, budget, time and purpose, our enthusiastic, professional, and experienced team are here to provide the best service to our valuable customers. This article on Annapurna Base Camp vs Everest Base Camp covers the explanation of two different and most popular trekking destinations in Nepal.
What are the Highlights of Annapurna Base Camp (ABC) and Everest Base Camp (EBC)?
Annapurna
Exploration around the famous city, Pokhara; second home to tourist
Splendid views of Mt. Annapurna (8,091m); the 10th highest mountain on the earth
Majestic views of other snow-capped mountains such as Annapurna I (8,091m), Annapurna II (7,937m), Annapurna III (7,555m), Annapurna IV (7,525m), Gangapurna (7,455m), Annapurna South (7,219m), Khangsar Kang (7,485m), Tarke Kang (7,202m), Machhapuchhre (6,993m), Hiunchuli (6,441m), and others
Annapurna base camp is surrounded by the Himalayas from 360 degrees
Explore Pothana village, Ghandruk and Ghorepani
Enjoy sunrise and sunset views from Poon Hill; a vantage point
Clear blue sky, high cascade, exotic floras and faunas, forests having beautiful flowers including rhododendron
Typical Nepali villages, peaceful landscapes, diverse terrains
Unique culture and traditions of Gurung and Magar people
Everest
Follow the footsteps of two legendary mountaineers; Tenzing Norgay and Edmund Hillary
The mouth opening view of world highest mountain, Mt. Everest (8,848m) from the closest point; base camp and vantage point; Kalapathar(5550m)
Alluring views of other mountains such as Mt. Pumori Mt. Lhotse (8,516m), Mt. Cho You (8,188m), Mt. Nuptse (7,816m), Mt. Pumori (7,161m), Mt. Ama Dablam (6,812m), Mt. Thamserku (6,623m), and Mt. Imja Tse (6,160m)
Exploration around the popular business hub – Namche Bazaar (the gateway to Everest region)
Visit Sagarmatha National park, the home to some endangered floras and faunas
The dense forest decorated with colorful rhododendron flowers, rivers flowing between trees, rare wildlife, and so on
Well known Sherpa people, their unique culture, and tradition
Prayer flags, exotic floras, and faunas, glaciers, small typical yet, beautiful settlements of Himalayan people, ancient monasteries, museums
Tengboche monastery, the largest and oldest monastery of the Khumbu region
Whole-heartedly hospitality, homely environment, cheerful smile
Experience life in the lap of Great Himalayas
How is the Trekking Trails of Annapurna Base Camp (ABC) and Everest Base Camp (ABC)?
The trekking trails of the Annapurna Base Camp is wider, have less up and down elevation, and get more snowfall in comparison to the Everest Base Camp. The trek to ABC begins with fertile lower land of the Himalayas whereas EBC begins with a scenic, breath-taking flight to Lukla. ABC passes through various naturally brimming diverse terrains, lowland villages, glaciers valleys, fewer steep ascents, moderate descents, fertile foothills, terraced rice fields, oak and rhododendron forests. Similarly, EBC passes along the Dudh Koshi riverside, several suspension bridges, many steep climbs, and gradual descents, glaciers, fewer tea houses, and dense forests. The route to ABC is much wetter, however, the route to EBC is much colder and drier because of high elevations. Additionally, due to high altitude, altitude sickness is more in Everest region than Annapurna.
Which is the best time to trek Annapurna Base Camp (ABC) and Everest Base Camp (EBC)?
Time is the base of travelling anywhere that shapes your travelling journey. There are things that affect your trekking journey in Nepal that is a season. Out of four seasons; Winter, Summer, Spring, and Autumn in Nepal, the very best time to trek the Annapurna Base Camp and the Everest Base Camp is the Autumn season (September, October, and November) and the Summer season (March, April, and May) being the next option.
In this Himalayan region, the Winter has the coldest and the Summer has the hottest temperature. Everest region receives low rainfall during Monsoon season due to high altitude than Annapurna because the higher the altitude is the lower is the chance of rainfall. But the Autumn and the Spring have a mild temperature. During Autumn season, weather is awesome due to the end up Monsoon which clear up all the dust and pollution presenting the Himalayas and landscapes in a crystal-clear view. In the Summer season, the trekking trails are decorated with multicolored rhododendron flowers, green leaves, and shining environment everywhere making your journey joyful.
Which is difficult to trek; Annapurna Base Camp or Everest Base Camp?
It's your passion that attracts you towards the trekking in Himalayan regions. And, if you have passion, you can do it regardless of difficulties. Every year, thousands of trekkers all around the world reach these base camps then, why can't you? There are certain things you need to know before trekking to these base camps. Don't worry, the team of Himalayan Holyland is here to provide all this information. The first thing that makes trekking in the mountain a bit difficult which you should know is the more the high altitude, the more is the altitude sickness problems. Trekking in EBC has a high chance of getting altitude sickness problems than ABC because many trekking trails of EBC is above 3,000 meters.
Do we need to be physically fit for trekking in Annapurna Base Camp or Everest Base Camp?
You don't need to be a marathon runner to trek in Himalayan regions. Trekking in these regions means a non-stoppable walking for at least 3 to 6 hours. If you can manage to walk continuously for 3 to 6 hours, up and downhill while carrying some weight then you can reach your destination. You have a local tour guide, a porter, and our valuable instructions along with some basic trekking training that will encourage you to trek again and again. both trekking journeys provide you altitude acclimatization days that will help you to get familiar with higher altitude. Even the availability of tea houses offers you healthy food that will strengthen your ability to walk. Before departing for the trek, I would like to recommend hiking carrying some loads that will help you to be habitual to walk in Himalayan regions.