Annapurna Base Camp With Sunrise View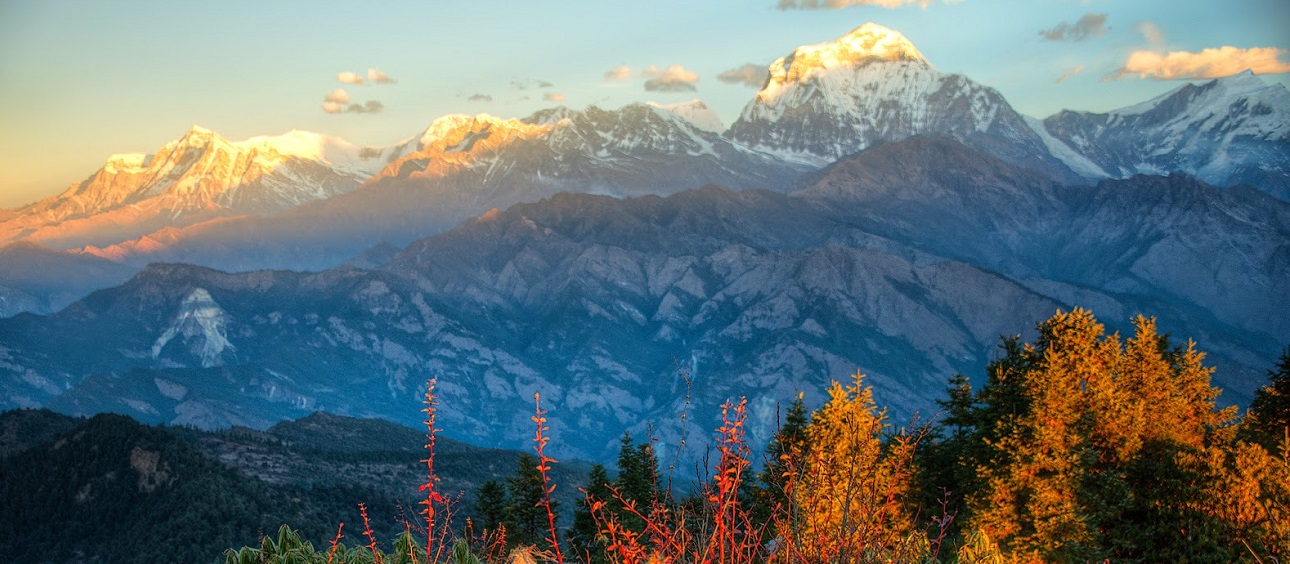 May 12, 2019
Annapurna Base Camp with Sunrise View is also known as Annapurna Base Camp Trek with Poon Hill. ABC with Sunrise View Trek is one of the adventurous trekking destinations in Nepal, which offer incredible mountains views, spectacular and tranquil landscapes, lush green rhododendron, bamboo, and alpine forests and many more. The majority of the population lives in Annapurna region are Magar, Gurung, Rai, and other ethnic groups, where travelers will get chances to encounter with these people, encounter with their unique cultures and traditions and experience the typical Nepali village life in the varied location of the mountain. Besides amazing views of the sunrise, this trek also allows trekkers to get involved with the local mountain people and their interesting way of living, traditional life in the Annapurna region of Nepal. The trekking trail of Annapurna Region is fused with the extraordinary and serene landscapes, lush green forests, striking several ethnic settlements, and stunning surrounding with superb Himalayan views on the background.
Annapurna BC with Sunrise View Trek leads you to explore the natural wonder of Annapurna Region, which allows travelers to experience the delight of the natural ecstasy on the earth. As you follow the legendary trail and reach to the Ghorepani Poon Hill, the major attraction of Annapurna, which is also renowned for the most famous viewpoints for the impressive sunrise views and spectacular Himalayan vistas including great Annapurna Himal, Annapurna South (7279m), Fang, Annapurna I (8091m), Annapurna III (7855m), Hiunchuli (6,441m), Ganagapurna (7485m), and Machhapuchhare (6993m), and other vicinity.
A journey to Annapurna BC with Sunrise View
With the exploration of the major UNESCO world heritage sites of Kathmandu, we will begin our journey to the ABC with Sunrise View Trek. Driving in the tourist AC bus with the mesmerizing natural surrounding on the way to the real heaven on the earth called the city Pokhara. You can either choose to travel by an AC tourist bus or private jeep, it depends on your booking requirements. As you begin your drive onward to Pokhara, you will be welcome with the amazing views of the Fishtail Mountain is known as the Mt. Machhapuchre. You reach to Pokhara, you can explore alluring Mountains Vista and famous Lakes. You can also enjoy around 1 to 2 hours boating in the Fewa Lake. Then you can continue drive journey to Nayapul, the trekking point from where we will begin our wonderful trek by following several villages including Ghandruk, Chhomrong, Bamboo, Deurali, MBC and finally, reach to Annapurna Base Camp.
On the way to Annapurna, Sunrise View trek travelers will get a rare opportunity to take bath in the natural hot springs of Jhinu Danda with the astonishing views of the stunning mountain. It is believed that once you take a dip into the naturally hot water, it will heal all the aches and skin disease. The further trek will lead us to the Annapurna Base Camp, where we can witness close views of the grand Himalayas including Annapurna South (7279m), Hiunchuli (6,441m), Annapurna I (8091m), Annapurna III (7855m) Ganagapurna (7485m), Machapuchre (6993m), and its vicinity. Make a journey in the Annapurna Himalayas of Nepal with Himalayan Holyland Trek and discover the natural wonder of Nepal!
Short Itinerary
Day 01: Arrival at Kathmandu (1350m) & transfer to hotel
Day 02: Full day Kathmandu valley Sightseeing Tour
Day 03: Drive to Nayapul (2 hours) and trek to Tikhedhunga (1,480m/4855ft) 4-5 hour
Day 04: Trek from Tikhedhunga to Ghorepani (2,860m/9,383ft) 6-7 hour
Day 05: Hike to Poon Hill and trek to Tadapani (2,630m/8,628ft) 5-6 hour
Day 06: Trek from Tadapani to Sinuwa (2,360m/7,742ft) 6-7 hour
Day 07: Trek from Sinuwa to Deurali (3,200m/10,498ft) 6 hours
Day 08: Trek from Deurali to Annapurna Base Camp (4,130/13,549ft) 5-6 hour
Day 09: Trek from Annapurna Base Camp to Bamboo (2,310m/7,578ft) 6-7 hour
Day 10: Trek from Bamboo to Jhinu Danda (1,780m/5,839ft) 5-6 hour
Day 11: Trek from Jhinu Danda to Landruk (1,565m/5,134ft) 3-4 hours
Day 12: Trek from Landruk to Phedi and drive to Pokhara (820m/2,690ft) 4-5 hour
Day 13: Pokhara to Kathmandu drive by tourist bus
Day14: Kathmandu Rest, explore yourself  and relaxation Day
Day 15: Final Departure day to your next destination
Trek Highlights
Massif Annapurna Mountains range with some of the world's highest Mountains, Mt. Manaslu (8,156 m), Mt. Dhaulagiri (8,167 m), and others.
Huge and colorful Rhododendron forest.
Mesmerizing beautiful and greenery Landscape.
Varieties of Flora and fauna.
Wave-like series of green hills.
The panoramic and heavenly feeling in Amphitheater Annapurna Base Camp Trekking.
The unique and rich culture of a different indigenous group such as Magar, Gurung.