Enjoy Everest View Trek Nepal with our trekking guide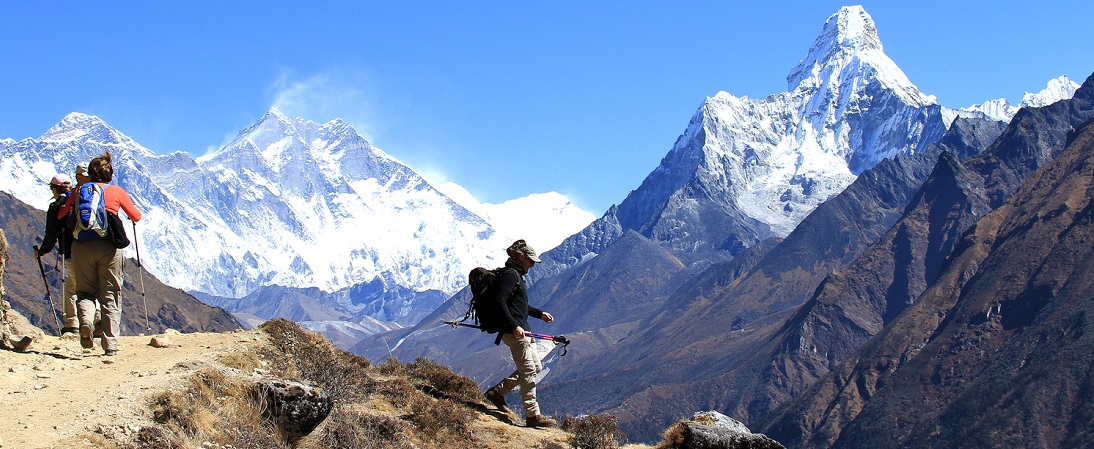 February 1, 2019
If you are wondering to explore the gift of nature in Nepal and experience spectacular adventure of Khumbu region, blend with natural wonder; giants Himalayans peaks, century old monasteries with rugged and rich Sherpa people of the mountain, then organize a trip vacation for Nepal. Himalayan Holy Land Treks is always here to cater your desire with the proper trekking guide. Everest region offers you unbeatable views of the Himalayas peaks and some unforgettable moments to enjoy the warm hospitality and unique cultures of the Sherpa People.
This fascinating Everest View trek in Nepal is also known as the Everest Panoramic Trek and it is perfect for those enthusiasts, who are bounded with the time, however, willing to witness incredible views of the world highest peak, Everest Base Camp with 8,848 meters altitude. During trekking to Everest, trekkers/ travelers will get an opportunity to get involved with the really awe-inspiring folk Sherpa culture and traditions. Everest region is filled with the towering Himalayas, several ancient monasteries, evergreen pine forests, human settlements in the cliffs, thundering rivers, higher than higher bridges and endangered wildlife and many more natural wonders. Every corner of the Everest region will offer you incredible views of the Himalayas including Mount Everest itself, Thamserku, Kangtenga, Kusum Kangaru, Kongde, Cholatse, Nuptse, Tabuche, and associated peaks.
Although this fascinating trekking trail no longer takes you to the Everest Base Camp, it will provide you with a glimpse of the strong Everest with the ongoing traditions of the Sherpa people. Striking and delightful mountains will make you over excited to trek on and encountering every coronary heart of the villages of Sherpa people and their historical way of life with the dazzling views of maximum mountains is really awesome. Himalayan Holy Land Treks will carefully organize the customizable itinerary for valued trekkers/travelers and also provide experienced, professional, well-trained Sherpa guide for you, where you don't have to face any kinds of communication barrier as well as problems that may occur during trekking to the Everest View Trek in Nepal.
The trekking trail of Everest View!
After exploration of major UNESCO World Heritage Sites of Kathmandu, we will begin Everest View Trek with the remarkable flight for Lukla, the gateway to Everest region trek. As you begin trekking, you will be greeted with the highest mountains and residents Sherpa people. The trekking trail goes ahead and also offer to explore numerous ancient monasteries and enter into the Sagarmatha National Park, where you can encounter with the rare and endanger flora and fauna. The blooming red and white rhododendron flower along with the pine, bamboo, and juniper greenery forest will always double your excitements. After you reach the top of the Tengboche Monastery, you will be stunned to have world's exceptional views of the world highest peaks in Nepal. You can witness Mount Everest-8848m, AmaDablam6856, Lhotse-8516m, Makalu-8463, and Chooyu-8153m that are above 8000 meters. Tengboche Monastery will be the perfect place for you to capture excellent photographs and to have an utterly stunned to view magical perspective of the entire Everest region mountains. Variety of accommodation in different hillside location will provide you different insights into the ethnic culture of local folks. After exploration, you will return back to Kathmandu by following the legendary trekking trail.
The best time to go!
The ideal time for Everest View trek in Nepal spring (March to May) and Autumn (September to November) seasons, where the weather and temperatures are also perfect for going in the Everest region in Nepal. In these seasons, the environment is also pleasing and most of the travelers/ trekkers prefers to make their vacation trip to Everest Views trek in Nepal.