Ghale Gaun Village Tour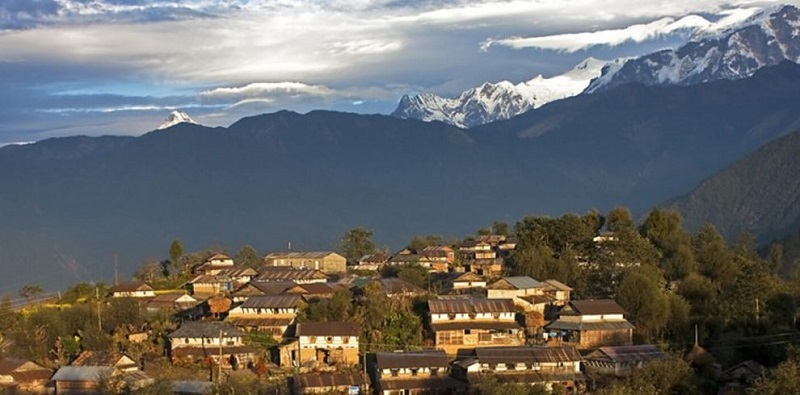 May 7, 2019
If you are desperate to explore exotic culture with mysterious and rugged natural beauty, then don't be late to make Ghale Gaun Village Tour as your vacation tour. Ghale Gaun, the famous legendary Gurkhas village of western Nepal, which is fused with the colorful Gurung villages along with picturesque hills and Himalayan scenery. This beautiful village is one of the unspoiled areas of Nepal, where most of the Ghale is habitat over there, which also allow every traveler to get involved with their exotic cultures and traditions.  Situated just northwest about 205km of Kathmandu, the capital city of Nepal and 125km northwest of Pokhara, Ghale Gaun, which expose close up views of magnificent western Himalayas including Annapurna(8091m), Annapurna II (7939m) Annapurna IV (7525m), Machhapuchhare (6693m), Lamjung Himal, Bouddha Himal (6974m), Himalchuli (6747m) and other small peaks.
Not only breathtaking views but also culture
Ghale Gaun, at the lap of the Lamjung Himal, is famous for the home place to Gurkha soldiers, which is enclosed with the superb Himalayas and hills. As you reach to Ghale Gaun, you will be stunned witnessing rugged beauty it offers and gets chances to practices community base hospitality with typical culture and lifestyles of Gurung people. Locals will welcome every traveler with their warm greetings by wearing their traditional customs. Travelers also get an exceptional opportunity to witness traditional folk dances including Jhyaure, Dohori, Serka, Ghyabring, and Ghandu Dance with their traditional customs. When they begin their cultural dance program, travelers will welcome with the offering of garlands and tika. Especially they celebrate Nepali New Year and Buddha Jayanti with traditional dance. The major profession of villagers is to make authentic woolen production as they keep goats and sheep from these animals, they use wool to manufacture clothes, bags, scarf, towels, shawls and many more.
What to explore?
Situated at the elevation of 2070 meters from the sea level, Ghale Gaun is one of the best destinations for home stay Tour in Nepal. Ghale Gaun is a picturesque hamlet village of around 95 Gurung style houses which will also offer comfortable basic amenities to national and international visitors. The warm and sincere hospitality of the Gurung people with a scenic extravaganza of snow-capped peaks of Ghale Gaun will surely bound to overwhelm the travelers. The food items such as fresh vegetable, grain, meat, eggs, milk and many more are locally produced and they serve to the travelers. Beside cultural of the local folk, Ghale Gaun tour also offers bird watching at Talangyo Lake and explore the Utter Kanya Temple, Pempro Fall, Batase Cave, and the Khudi Hydroelectric dam site. Travelers can also enjoy the stunning views of the sunrise, sunset, and the breathtaking Himalayas such as Annapurna range, Lamjung Himal and Manaslu range, Ancient Buddhist Monuments, Waterfalls, and various wildlife's.
Honey Hunting
Ghale Gaun is famous for honey hunting. Traditionally, local tribes have skills to hunt bees and collect honey from them in the Himalayan foothills. By using locally made rope and ladder, native people hang by the cliff and collect honey. Ghale Gaun is renowned for world largest bees honey hunting village. At first, you should take a smoke and climb up which will help to disperse the bees and poke the hive through the stick and plug the chunk of honey. Then later you can collect the chunk in the basket. Although honey hunting activities seem quite easy and simple, it is a thrilling and adventurous activity, where the traveler can test their real strength. During hunting, the honey hunter should pay more attention and be careful during hunting otherwise bees may bite and may cause a serious problem even sometimes death of the hunter. Himalayan Holyland Treks & Expedition will provide you this amazing adventurous honey hunting activities to experience.