Khopra Danda and Khair Lake Short Trek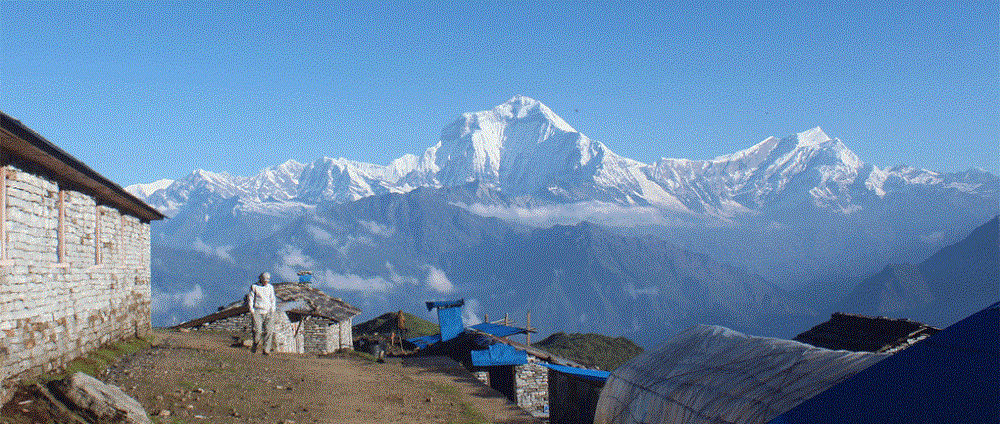 May 8, 2019
Khopra Danda and Khair Lake are one of the most scenic and pristine short treks in the Annapurna Himalayas in Nepal. Khopra Danda, a well-known viewpoint for the stunning Himalayas, which offer magnificent views of Mt. Annapurna, Mt. Dhaulagiri, Mt. Gurja Himal, Mt. Nilgiri, Mt. Tukuche peak, Mt. Hiunchuli, Mt. Machhapuchhre, Mt. Mardi Himal, and another vicinity. Khopre Danda and Khair Lake are one of the most famous unspoiled short trekking routes within the Annapurna Conservation Area in Nepal. Khopre Danda is a village rich with the culture where the majority of the population are here are Magar, Gurung, Brahman, and Chhetris. The trekking trail of Khopra Danda and Khair Lake is fused with the varied beautiful villages, lush forest of oak, pine, rhododendron, bamboo trees, where travelers can encounter with the rare and endanger floras and fauna including Deer, Languor Monkey, and various bird species. Travelers have to trek in the off-beaten trekking trail with the accompany of Mountains scenery, wilderness, landscapes enclosed with the stunning Himalayas.  It is a short and adventurous trek and perfect for those travelers who are bonded with the time but eager to experience the adventure.
The trekking trail of Khopra Danda and Khair Lake
With the amazing views of the Himalayas and green rolling hill, Khopra Danda and Khair Lake trek begin from Kathmandu to Pokhara by air flight. After exploration of the heavenly place Pokhara, we will begin official trekking by following several folk's settlements on the way where trekkers will get an opportunity to encounter with the local people and their unique cultures and traditions. As your trail goes ahead, you will explore the Khopra Ridge, Khair Lake, Shikha Village, and Tatopani. As you reach Tatopani, you can bath in the natural hot spring. It is believed that once you dip into this natural hot water, it has healing power and release your skin disease. As you reach the destination (Khopre Danda), there you can have striking views of the Himalayas. After exploration, you will return back by following a familiar route to Kathmandu.
The best time to visit Khopra Danda and Khair Lake
Although any time around the year is perfect to visit and explore Khopra Danda and Khair Lake short trek in Nepal, most of the trekker prefer Mid Sept to Mid Dec and from Mid Feb to end of May as the best time to explore this amazing trek. As considering the weather and the temperature, in this period will be fine and can have stunning and clear views of the alluring Himalayas. The trekking trail will also be quite easy to trek in this season with the amazing blooming of flowers of rhododendrons on the way.  In these seasons, the temperature is not so hot and not so cool, which will make trekking quite easy for the travelers. If travelers desire to trek in the winter (December, January, and February) and summer (June, July, and August) then it is also possible but in this season the weather is too cold while in the summer trekking may affect by frequent rain or monsoon.
Short Itinerary of Khopra Danda and Khair Lake
Day 01: Kathmandu to Pokhara by flight or Drive 850m/35m 7hours.
Day 02: Pokhara to Tikhedunga 1540m/5-6hours.
Day 03: Tikhedunga to Ghorepani 2850m/6-7hours.
Day 04: Ghorepani to Tadapani 2640m/5-6hours.
Day 05: Tadapani to Dobato (Baisi Kharka) 3436m/5-6hours.
Day 06: Dobato to Chistibung 3026m/4-5hours.
Day 07: Chistibang to Khopra Danda 3660m/ 4-5hours.
Day 08: Accommodation at Khopra; short hike to Khair Lake 4500m/9-10hours.
Day 09: Khopra Danda to Narchyang 1510m/5-6hours.
Day 10: Narchyang to Tatopani 1200m/3-4hours.
Day 11: Tatopani to Pokhara 850m/5-6hours drive.
Day 12: Pokhara to Kathmandu by Drive or Flight
Trek Highlights of Khopra Danda and Khair Lake
Khair & Khopra Ridge Trek will let you experience the breath-taking panoramic view of Annapurna & Dhaulagiri range from Kopra range.
You will have cultural and scenic trek on high green hills in the shade of Mt. Annapurna & Mt. Dhaulagiri exploring rural villages of Gurung and Poon-Magar hill tribes.
This trek trails from low warm paddy fields to cooler alpine hills into the enchanting forest of rhododendron trees passing through main trails to the beaten paths with the hike to Poon Hilltop for magnificent scenery.
Trekking between the world's highest mountains and into pristine holy icy lakes of Khair will be your life long memories.