Manaslu Trek Difficulty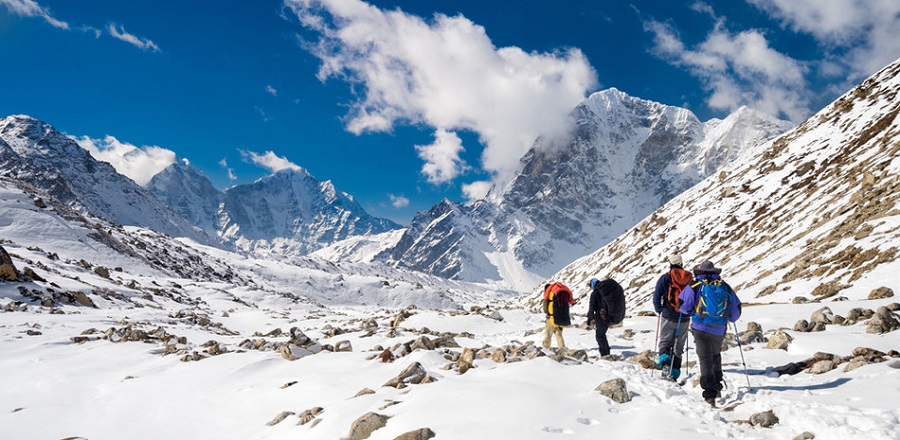 April 26, 2019
Along with the trekking adventure exhilaration, Manaslu Trek Difficulty comes parallel with the adrenaline rush it assails.  Mountain Manaslu, the eighth highest mountain in the world is one of the most adventurous treks in Nepal. Manaslu Trek offers a unique experience to trek in the off-the-beaten trekking trail with the rich cultural and traditional remote villages of Manaslu region in Nepal. Every year thousands of trekkers come here to explore this legendary Manaslu trek and explore the remote areas of Nepal. Every trekker regarded Mount Manaslu as a "Mountain of Spirit". The trekking trail of Manaslu is filled with the beautiful lush green forest, alluring several rivers, several stunning waterfalls, streams, Larke La Pass, and exotic mountains views on the background of every corner. The blend of extreme adventure with natural beauty along with rich cultures of remote Nepal makes this trip of Manaslu trek one of the best treks in Nepal. Another stunning trekking destination such as Annapurna Circuit, Annapurna Base Camp, Everest Base Camp, Kanchenjunga and many more, Manaslu Circuit Trek difficulty is distinguished from these mentioned trekking. Even though, it doesn't need professional athletes or mountaineer to accomplished this Manaslu trek. On the other hand, it doesn't mean that it can easily summit but it needs a certain level of fitness and essential preparation to get success in the high altitude. Larke La Pass with its 5,213 meters altitude is the highest altitude of Manaslu trek. It might be quite difficult for the novice trekkers but some training about trekking and essential skills to reach on the summit. Manaslu trek have several times ups and downs with airy trails that trekkers have to trek through, where they need a moderate level of fitness without any kinds of physical problem. Each day trekkers have to trek around 6 to 7 hours in a hilly and mountainous region. Some trekkers may suffer from the altitude sickness even-though Himalayan Holyland Treks will carefully organize acclimatization day in the various place of Manaslu region. This trek is a reliable travel and trekking agency in Nepal, which has specialized in the successful completion of every trek without any accidents and considerable delays. Manaslu Trek Difficulty, however, is overcome with basic rehearsal and beforehand preparation.
Altitude and Distance
Manaslu Base Camp is with it's altitude of 4,800 meters and the Larke La Pass with its altitude of 5,123 meters are the main two highest and biggest challenges altitude of Manaslu Region Trek in Nepal. During this trek, most of the trekkers suffer from the altitude sickness so they should have good physical fitness. During trekking in the high elevation, trekkers can trek in a slow speed, drink plenty of water and onion soup with frequent rest may reduce the problem of altitude sickness. While talking about the distance of Manaslu Trek, it has total trekking length approximately 175km (109 miles) which required around 10 to 12 days itinerary depending on each day trekking hours and its length. First few days trekking trails may be difficult one for novice trekkers due to Budhi Gandaki Gorge harsh steep with frequent uphills and downhills trail. The trekking trail of Manaslu and several suspension bridges on the way may also be very breezy at times.
The weather and temperature of Manaslu Trek in Nepal
The best time to explore Manaslu Trek is spring and Autumn seasons which consist the months of March, April, May, and September to November respectively. In these seasons the weather is clear to have stunning views of the Himalayas and trekking trail is also quite fine as compared to other seasons. The chances of rainfall are also very low and the temperature is also mildly warm in the daytime and quite cold in the night with around 16 degree Celsius and 2 degree Celsius respectively. The stable temperature and pleasant climates of these seasons make spring and autumn the ideal time to trek and explore the around.
Strength and Endurance Training  
Although Manaslu Trek is quite off-beaten trekking trail, strength, and endurance training is the key to maintaining the fitness level and keep yourself physically and mentally fit for the trek. Every day you have to trek 5 to 6 hours trek in the rocky trail with frequent steep climbs and steeply descents of Manaslu Trek in Nepal. Having plenty of diets such as foods with carbohydrates, protein, and fibers along with some drinks will boost as well as replenish the energy level during your trekking.
Manaslu Trek Short Itinerary
Day 01: Arrival in Kathmandu [1,350m/4,264 ft]
Day 02: Kathmandu: Sightseeing and Trek Preparation Day
Day 03: Drive from Kathmandu to Sotikhola [710m/2328 ft] : 8 – 9 hours
Day 04: Soti Khola – Maccha Khola [900m/2952 ft]: 6 – 7 hours
Day 05:  Maccha Khola – Jagat [1410m/ 4625 ft]: 6 – 7 hrs
Day 06:  Jagat – Deng [1,804m/5917 ft]: 6 – 7 hrs
Day 07: Deng – Namrung [2630m/8626ft]: 6 – 7 hrs
Day 08:  Namrung – Samagaon [3530m/11,578 ft]: 6-7 hours
Day 09:  Samagaon – Pungyen Gompa – Samagaon: 6 – 7 hours exploration
Day 10:  Samagaon – Samdo [3860m/12,660 ft]: 4 – 5 hours
Day 11: Rest & Exploration Day in Samdo
Day 12:  Samdo – Dharamsala/Larke La B. C. [4460m/14, 628 ft]: 4 – 5 hours
Day 13:  Dharamsala – Larke la [5160m/16, 924 ft] – Bimthang [3720m/12, 201 ft]: 8 – 9 hours
Day 14: Bimthang – Tilje [2300m/7544ft]: 5 – 6 hours
Day 15:  Tilje – Tal [1700m/5576 ft]: 5 – 6 hours (1700)
Day 16:  Tal – Syange [1080m/3542 ft]: 6 – 7 hours
Day 17: Syange – Beshisahar – Kathmandu: 8-9 hours drive
Day 18: Final departure day to your home
Manaslu Trek Highlights
Walk through a typical mountain village with beautiful rhododendron forest.
Visit the famous town of Gorkha.
Long walk up through the Budi Gandaki Valley.
Charming views of Manaslu and surrounding Himalayan range.
Long walk up through the Budi Gandaki Valley.
Traditional village lifestyle and unique culture.
Terraces of crop fields.
Breathtaking views of the Glaciers, The Mountains, and Landscape.
Manaslu Base Camp.
Larke La pass.
Beautiful mountain lakes.
The scenic drive from Kathmandu to Soti Khola