Mardi Himal Trek: An off the beaten path to 'Nirvana' !!!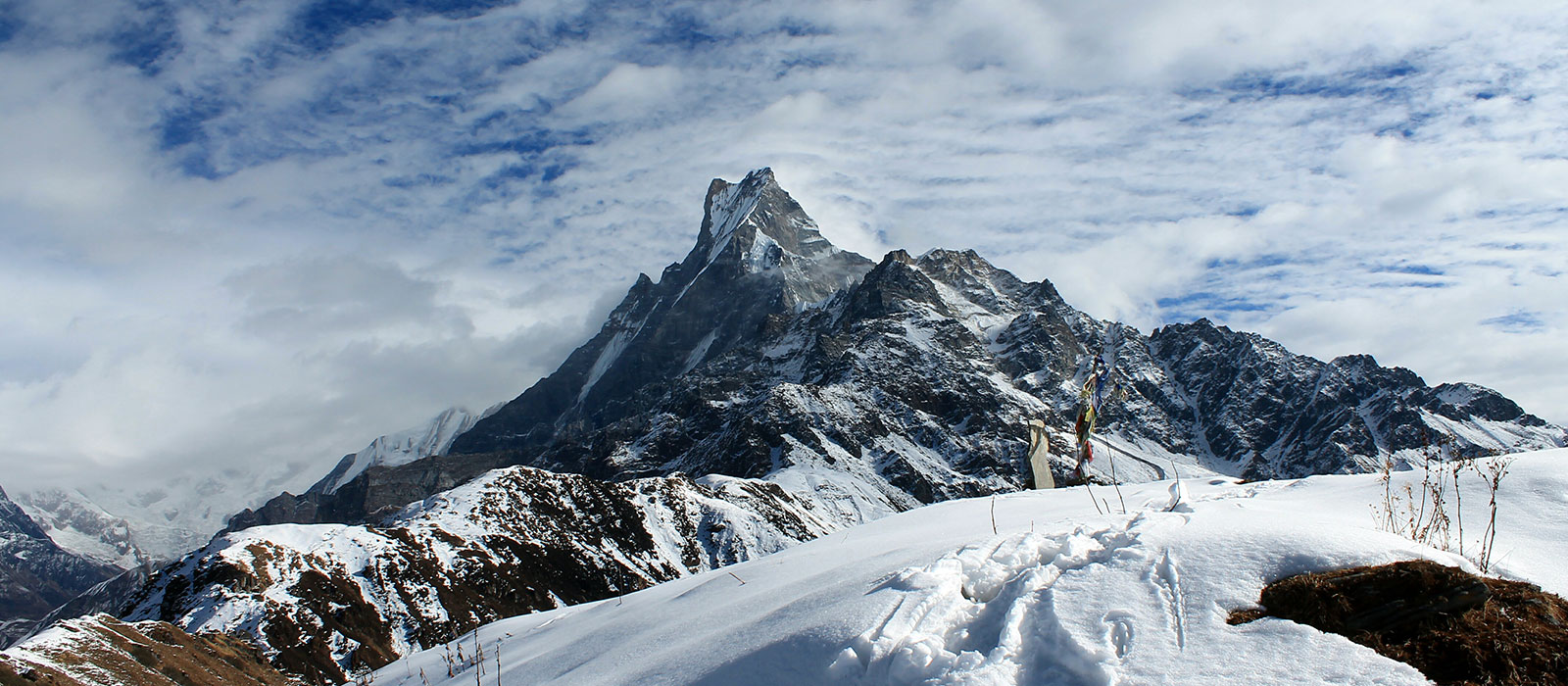 September 2, 2018
Favoured with profound natural and cultural diversity; Nepal has been fulfilling the dreams and fantasies of every single trekker and travel enthusiast throughout the entire planet. The green hills, arid mountains, snow-capped peaks, sub-tropical plains, lush greenery, and terraced farmlands alongside classic traditions, and ethnic culture are few features of this Himalayan nation that attracts thousands of visitors every year. Among numerous awe-inspiring regions famed for their natural grandeur; Annapurna region consists of dozens of trekking destinations varying from short to multi-day treks of 2-3 weeks duration. This very region single-offhandedly wins over scores of tourist heading for Nepal for an indelible adventure. As a matter of fact, the off-beaten Mardi Himal Trek lies in the region.
Considered as a 'crown jewel' in the Annapurna Region; the recently unlocked and less crowded Mardi Himal Trek renders an insight into the region's remote settlements and emerald landscapes. During this particular trek, not only you'll witness majestic mountain vistas, you'll also get a glimpse of the ethnic culture and traditional lifestyle of the native communities. In addition, Mardi Himal Trek extends elegant outlook embracing radiant woodlands of rhododendron prettified by blooming ethereal flowers in red, white and pink colours.  As the trekking trail advances beyond enchanting forests, grasslands, and terraced farmlands overflowing with the rice and mustard; it showcases a diverse species of exquisite flora and fauna.
After a scenic drive from Kathmandu to Pokhara(850m) via tourist bus/private vehicle, trekkers again require to take a drive from Pokhara to Dhampus. Thereafter, a joyful trekking escapade then initiates for trekkers as the trail advances to Pothana Deurali (2,150m). From here, trekkers are needed to navigate across the dense woodlands inhabited by exotic wildlife to Forest Camp (2,480m); and eventually, make its way beyond Low Camp then to High Camp (4,100m).  In the end, the trail reached the lovely village of Siding (1,280m). This pristine village is still untouched by the horde of tourist and highlights homestay facilities provided by the owners of the lodges at Low Camp. Progressing past the settlements of Kalimati and Ghalel; the trail ultimately makes it to Lumre. Besides this, a trek to Upper Viewpoint positioned at the elevation of 4,200m rewards trekkers with the alluring sunrise views over the panorama including the South face of Mt. Annapurna, Mt. Hiunchuli and Mt. Machhapuchhre. Mardi Himal Trek bestows trekkers with a window of opportunity to gaze the prepossessing outlooks of Annapurna South (7,219m), Himchuli (6,441m), Annapurna I (8,091m), Gangapurna (7,455m), Mt. Machhapuchhre (6,998m), Annapurna II (7,937m) and Mardi Himal (5,587m).
From Lumre, trekkers have to mount on a private vehicle that will ferry them to the city for Pokhara. From here, trekkers can either, drive back to Kathmandu or enjoy the delights extended by Pokhara towards them such as sightseeing or adventure activities such rock climbing, bungee jumping, paragliding, zip flyer etc. Trekking trail to Mardi Himal Base Camp is equipped with Tea house lodging facilities with delicious Nepali and basic western foods. So, Mardi Himal Trek allows trekkers to trek without fear of running out of food during the adventure and enable them to experience best of the Mardi Trek.
If your heart is set on Mardi Himal Trek, then brace yourself to discover the classic Nepali hospitality with friendly smiles which empower and encourage every traveler to advance forward on their way to the foothill of majestic Mardi Himal (5,587m). Wanna make this journey with the aid of experts and their unrivaled expertise?? Then contact us right now and secure your place in our Mardi Himal Trek !!!