Tea House Trekking In Nepal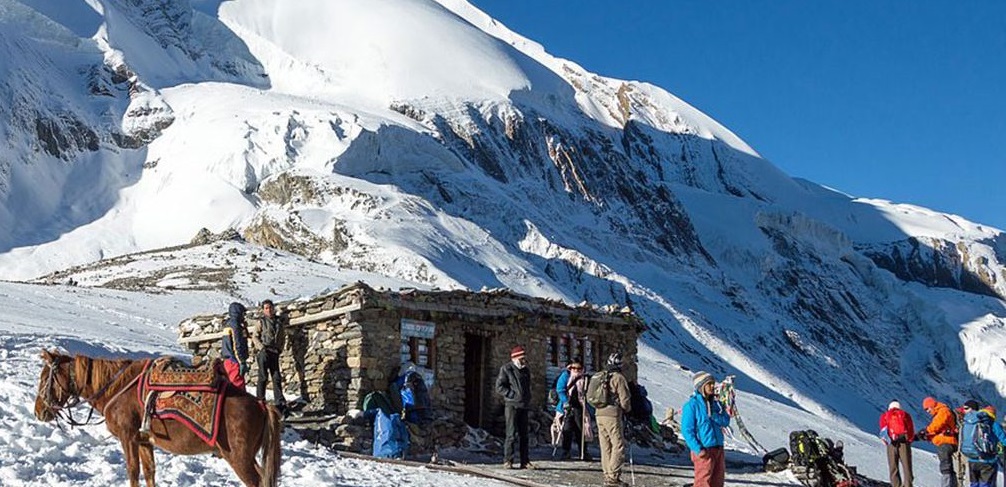 March 24, 2019
Tea House Trekking is also known as 'Lodge trekking' in Nepal. Tea House trekking with adventure and cultural experience is one of the most famous trekking in Nepal. Usually, Tea house in Nepal refers to those diminutive but remarkable tea shops where trekkers stop for their accommodation with the wonderful cup of tea during their trekking in the remote areas of Nepal. Most of the isolated or remote mountain areas of Nepal, established a lot of tea houses with full-fledged high hill lodges, that offers normal but organic foods with virtuous accommodations facilities.
Tea House Trekking is one of the most favored trekking among both national and international trekkers or travelers. In the past, the tea house was the place only for rest and have a cup of tea, where trekkers were offered accommodation even free or at a nominal fee. As tourism grows rapidly in Nepal, the concept of tea house has been changed over time. These days basically tea house means small hotels that are established in the remote areas of the Mountains, especially for the trekkers. Most of the trekker prefers to do tea house trekking due to its cheapness and convenient that trekkers don't have to carry their own camping gears including tents, sleeping bags, towels, cooking utensils, foods, and other amenities. Not only that point, but it will also ease a burden of carrying many supplies and allow them to plan their trek at their own peace in their own trekking schedule and explore the real life and culture of the rural areas of Nepal. Most of the tea houses located along the different route of trekking are owned, managed and inhabited by local families, where trekkers will get a rare glimpse of unique cultures and daily lives of the rural local folks of Nepal. The cost of tea house is depending on the remoteness and its altitude of the location and the standard of the rooms and services it provides. The standards and comfort offered by tea houses vary from its locations that it is situated in, as you reach to the remote and less visited areas, you will find the more rustic and basic types of lodgings. Some of the most popular trekking destinations in Nepal such as the Everest Base Camp, Annapurna Base Camp, Annapurna Circuit and many more will offer some luxury tea house services also for trekkers such as they offer varied of food options, well-equipped toilets, dinning hall, rooms,  WiFi service, and many other amenities.
Food and accommodation offered by Tea House Trek in Nepal
Many trekkers or travelers will be concerned about the food and accommodation that will get during their tea house trekking in Nepal. During your tea house trekking, you will be offered typically traditional meals including standard breakfast, lunch, and dinner with special tea or coffee. At some places you can find local home made juice also. In Nepal, Dal, Bhat, and Vegetable are the most popular dish. Instead of snacks, tea houses will provide you biscuits, soft drinks, chocolate, French fries and even seasonable fruits. Most of the tea house of remote areas will provide tasty and hygienic foods options menu for trekkers. There will be cereal, bread, egg, porridge and many options for your breakfast, varieties of rice and noodles dishes with tasty soup as well as seasonable vegetables will be for lunch and dinner. During your accommodation of different locations of remote areas tea house of Nepal, trekkers will be provided simple, clean, and functional accommodation room. You will be provided with single sized beds with sheets, blankets, and pillows. You will have options of a single and double room to choose from. In the peak seasonal time of the trekking, you may have to share the room with other travelers. As you go to the higher altitude, you may not find electric lights rather you will find homemade lights or solar lights.
Himalayan Holyland is always present to organize a fantastic tea house trekking packages for trekkers with well-experienced and professional-licensed trekking guide. One good thing is we have multi-language speaking guides. Himalayan Holyland will provide you several services during your trekking that includes meals, accommodation, trekking permits, insurance, transportation (both land and air) and many more which you need to make your entire wonderful trip ever.