Things to do in Ghorepani Poon Hill Trekking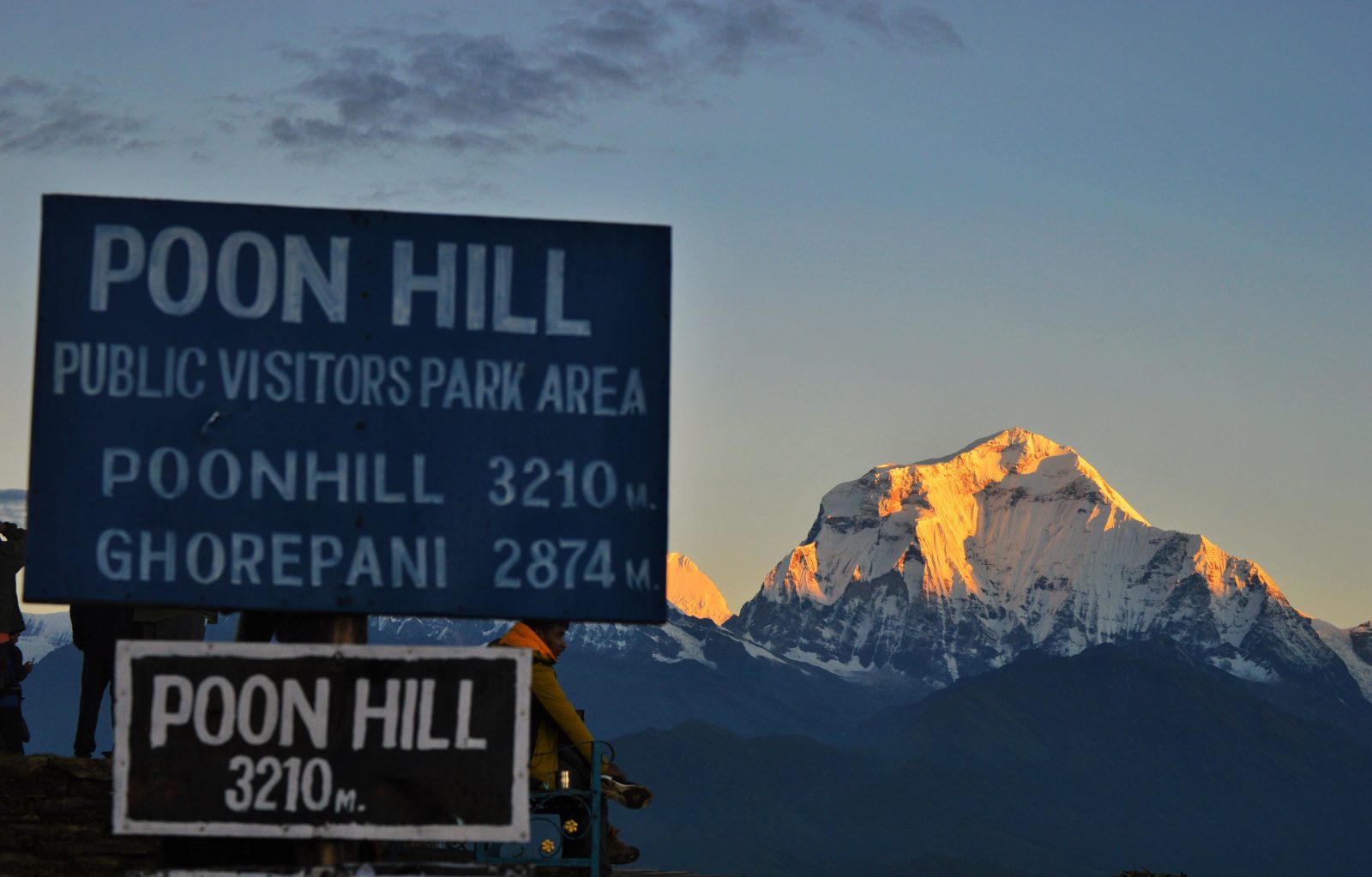 January 17, 2019
Poon Hill, one of the most popular and amazing hills in the Annapurna region of Nepal offers different things to do in Ghorepani Poon Hill trekking. Annapurna is a massif in the Himalayas that includes one peak over 8,000m, thirteen peaks over 7,000m, and sixteen peaks over 6,000 meters, isn't it's a blessing from nature? Surrounded by beautiful mountains; Annapurna I (8,091m) and Dhaulagiri I (8,167m), Poon Hill trek is the best trek for all the travelers who have limited time and budget for trekking in Nepal. Both Annapurna (tenth) and Dhaulagiri (seventh) mountains are listed in the world highest mountains. The Ghorepani Poon Hill trekking is possibly the easiest (climbs up to 3,210m on the foothills of Annapurna) and shortest (four to five days) way to witness the beauty of the Himalayas while experiencing the tea house life. Are you thinking to do the Ghorepani Poon Hill trek, but unknown with what to do there or what it offers? Here's a list of things to do in Ghorepani Poon Hill trekking before moving forward.
A Short Hiking in Ghorepani Poon Hill!
Located in the Annapurna region in Myagdi district of the Dhaulagiri zone in Nepal, short hiking in Ghorepani Poon Hill is worth the entire journey to your destination. The way to the Poon Hill is decorated with rhododendron forests, terrace, and greenery farmland. Rhododendron is the national flower which is one of the natural attractiveness of Himalayan region that makes the trekking trails delightful. The trails to Poon Hill take you to the different wonderful and unique places; Nayapul, Tikhedunga, Ghorepani, Gandruk, Deurali, and Pokhara. Walking through the ascending and descending terrains, passing through the quaint little villages, crossing suspension bridges over rivers and streams, and encountering the breathtaking views of snowy peaks are some of the attractions that many trekking trails in Nepal offer to the trekkers. In a short time, you have an excellent opportunity to experience trekking in Nepal.
Poon Hill Sunrise and Sunset view
Poon Hill sunrise and sunset view are absolutely amazing and famous as one of the best viewpoints after Kala Patthar of Everest region. Witnessing the sunrise and sunset view over the towering peaks of the Annapurna region is what makes this trek popular among the trekkers.
Tea House treks in Nepal
As trekking in Nepal is getting much popularity worldwide, many of the trekking routes in Nepal pass through the small villages where small tea houses (basic accommodation) are set up by local people to provide food and lodging services to the trekkers. While hiking up to Poon Hill, you will have a chance to experience a bit different, yet, unique tea house trekking in Nepal. These tea houses in Nepal will introduce with the taste of Himalayan food, even the nomadic life in the remote areas of the Himalayan regions.
Excellent mountain views
Ghorepani Poon Hill trek offers a magnificent panoramic mountainous view of many splendid mountains. From the top, witness the breathtaking views of Mt. Annapurna I (8,091m), Annapurna II (7,939m), Annapurna III (7,555m), Annapurna IV (7,525m), Annapurna South (7,219m), Dhaulagiri I (8,167m), Dhaulagiri II (7,751m), Machhapuchchhre (6,998m), Nilgiri (7,041m), Lamjung Himal (6,988m), Hiunchuli (6,441m), and so on.
A cultural journey
Poon Hill trek is famous for the antique settlements of Gurung and Magar communities. Ghorepani and Ghandruk village have the major Magar and Gurung settlements in the Annapurna region. These traditional villages are beautified with the terraced slopes, dancing paddy fields, and typical mountain style houses. Ghorepani Poon Hill trekking makes you witness the unique culture and traditions of these ethnic groups that they are preserved from centuries as well as their nomadic lifestyle.
An adventurous trek
Ghorepani Poon Hill trek begins from either scenic flight from Kathmandu to Pokhara or initially from Pokhara. Pokhara is considered as the second home to the tourist for centuries. Pokhara, a delightful and lively city offers the vistas of Mt. Annapurna, Mt. Machhapuchchhre, Mt. Dhaulagiri, and other surrounding peaks from the transparent windows of the lakeside hotels. Witnessing mountains from your residing place early in the morning, isn't it a pleasant moment? Besides mountainous views, this place is famous for adventurous activities such as Paragliding, Jeep gliding, Bungee jumping, hiking, and boating in Phewa, Begnas, and Rara lake. This beautiful city has a lot to offer that will add more amusement to your trekking journey. Not only this, Poon Hill trek is famous for birds watching like Lophophorous in the dense woods.
The Ghorepani Poon Hill trek designed by Himalayan Holyland Treks & Expedition offers you many adventurous things to do in Ghorepani Poon Hill trekking. You surely will fall in love with the breathtaking natural scenarios along with the trekking route to Poon Hill! Join this trek to experience thrilling moments in the lap of nature in a limited time without going to higher altitude!