What is required to reach Everest Base Camp?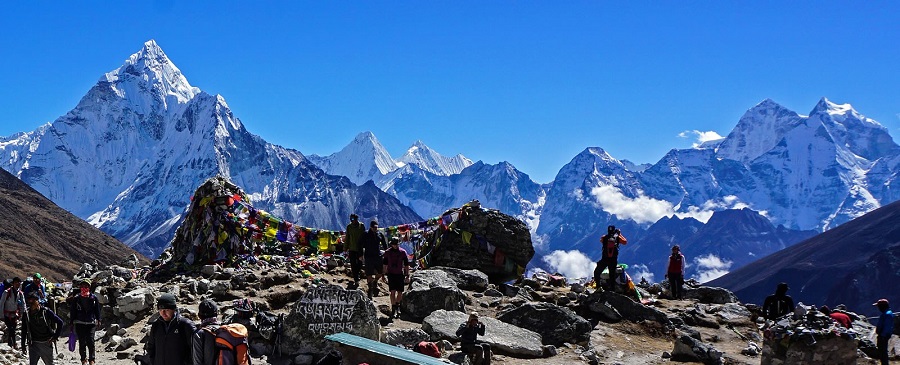 February 26, 2019
Majority of the people questioned, "What is required to reach Everest Base Camp?", the direct answer for this is full preparation. People underestimate that the Everest Base Camp trek can be achieved easily with strong determination rather than preparation and training. This trek is the combination of fascinating mountain views and cultural experience of the Himalayan people. The world's highest peak; Mt. Everest (8,848m/29,029 ft)) lies in North-east of Nepal which is locally popular as "Sagarmatha".
The Everest base camp trek reaches the height of 5,364 meters where having altitude sickness problem is very common. The route to base camp passes through the remote Himalayan villages, uphill and downhill path, dense forests, the bank of the rivers, hillside, glacier valleys, and so on. Though trekking in the Everest region will reward you with mesmerizing views of the world's high mountains, the journey is a bit difficult. Before heading towards the Everest adventurous voyage, you can do some preparations for successful completion of the trek.
Always remember that trekking in the Himalayan land is not a race that you have to walk too fast. A slow and careful walk will lead you at the summit of the EBC. You have to listen to the warning signs of your bodies and follow the instructions given by your trekking guide. Here is the list about the requirements to reach the Everest Base Camp.
Physical Strength:
People usually ask how fit do you need to be to climb Everest base camp and it's good to be aware before beginning your trekking journey in the Himalayan region. Hiking in the Himalayan terrain of Everest is a serious challenge which requires minimal physical strength with good cardiovascular and muscular strength. Regular short and long walk for a couple of weeks before your scheduled trekking journey will increase your habit of walking and muscular strength.
Training:
Your training should include strengthening of a cardiovascular, muscular, and physical state as well as fitness exercises. Trekking in the Everest region demands six to seven hours of a continuous walk carrying loads. Walking, running, and regular outdoor hiking sessions with a backpack are essential training workout. We recommend starting your training as soon as possible!
Prior Trekking/climbing Experience:
The Everest base camp trek takes you at an elevation of over 5,000 meters. The key to successful trekking journey in the Himalayan land is hiking up and down hills with a weighted backpack on a regular basis. EBC Trek requires basic trekking/climbing skills such as the use of fixed ropes, crampons, etc. You must have prior climbing experience at least 6,000 meters of elevation. While doing hiking, wear the same boots that you will wear during Everest Base Camp trekking.
Proper Acclimatization and Rest Period:
The most common Everest base camp trek difficulty is it's increasing altitude. You have to reach over 5,000 meters where the air is thin causing problem in breathing. The weather in such altitude is unpredictable and unstable too.So, you need to acclimatize after 3000 meters. For this trek we will do acclimatize at Namche Bazaar. We have a rest day here and hike up about 300 meters to Everest view hotel. From we can see excellent/stunning view of Mt. Everest and surroundings.
Trekking Permit:
Trekking to EBC in Nepal, all the tourists should get a TIMS (Trekking Information Management System) card from Tourist Service Center or Trekking Agencies' Association of Nepal in Kathmandu. You also need the Sagarmatha (Everest) National Park Entry Permit. For obtaining these permits, you have to bring three copies of passport size photo and personal details.
Besides above-listed things, a good guide with the right itinerary in terms of sufficient acclimatization and rest days are required. Trekking with good company is recommended. Aside from breathtaking mountainous scenes and walking in the unexploited Himalayan landscapes, you will get the chance to experience generous hospitality of Sherpa people which is popular among the Everest voyagers. Prepare yourself mentally and physically to reach EBC. Having a positive attitude is also required to reach Everest Base Camp which will motivate you to accomplish your dream.